Computers
Genius, scribble or a bit of both: Who is the SteamOS? (Updated)
Is the grandiose plan of Valve Compete directly in both the windows and home consoles will change the gaming world or crash in a painful way? We are here to try and understand
Get updates from us all at TelgramJoin the channel now
Last week, Valve provided us with three separate announcements that are actually part of one big vision called SteamOS - a Linux-based free operating system that will try to integrate the gaming world of PCs into the gaming world of consoles, drawing on the serviceSteam.
The exposure of the SteamOS system was accompanied by a sort of advertising trick in which Wolve promised three big announcements in one week, which of course drew great enthusiasm across the network and countless speculations and assessments that talked mostly about one thing - Half Life 3 (or at least Half Life 2: Episode 3).
Instead of announcing the desired sequel, we received three announcements, all of which belong to the SteamOS system and Wahav's desire to become a hardware player, and given that all three announcements provided very little solid information, it was better for him to have all the information in one single statement A mountain of expectations for them will be difficult to deliver.
Despite the disappointment (for the umpteenth time) of the lack of details about the next Half Life title, the new initiative by Wallach became the talk of the week in the technology world.
We didn't get Half Life 3, but we did get a glimpse of the new big project from Wallab
Together the best of the world -PC And world consoles and make the Linux To a serious gaming platform
SteamOS Is a free Linux-based operating system primarily for gaming in the living room. The system will be based on Wallab's Steam service launched for Linux in February this year and will also support streaming games from Windows PCs - a solution that should help the system (at least partially) overcome the relatively limited support for Linux on the gaming platform. SteamOS can be installed for free on any computer, but Wallab plans to launch dedicated computers next year Steam Machines (them We knew each other before on behalf of Steambox) And will be based on the system in question.

Valav talks about hundreds of titles that will work directly on the SteamOS system.
All those who don't - will be able to work through streaming from a computer based Windows Or MacOS
There is currently no technical information about theSteam Machines, but it is known that Levav has agreements with several manufacturers that will offer these products as soon as the SteamOS system is launched (at the beginning of 2014). It is also known that computer-Steam Machines will be "open" and allow users to replace their operating system, modify and upgrade the hardware inside, install any software they choose, and so on - unlike the saloon consoles we know today.
According to recent reports,Steam Machines will be offered at three different price levels - the first may be a particularly inexpensive option for those who want to play mostly with modest arcade crowns, the second may offer an experience and price similar to those of the latest consoles, while the third may be an advanced solution for those who want a particularly high-quality experience, such that contemporary consoles may not to provide.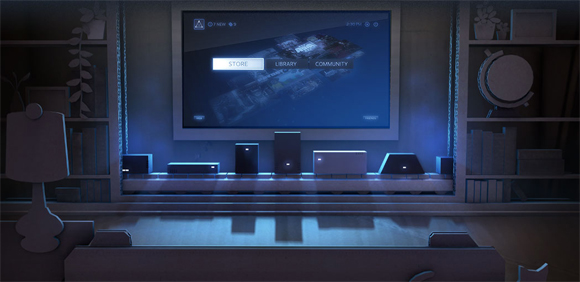 ComputersSteam Machine does not sound like a product that will necessarily cite gamers who have already invested in a PC
But they may be an interesting alternative for console enthusiasts
Who are looking for a device that you can just plug into the TV and start playing it
In addition to the operating system and the computers on which it will be based, The Steam Controller Which abandons the double joysticks that have accompanied us for two decades in favor of two touch surfaces and a touch screen.
First experiences in the morning Reported On precise control and a positive overall experience, but nevertheless it is still hard for us to see thePC And the console players give up the means of control they have been accustomed to for years in favor of a completely new control system.
In his letter,Steam Controller will work with any computer that runs the platformSteam And ensure that no one will be forced to use the controller.
Example of the keyboard layout of theSteam Controller game Portal 2 (right) and image of the beta version of the controller,
Which includes four physical buttons in place of the touchscreen and wired connection (as opposed to the final version being wireless)
So how should I refer to SteamOS and everything that surrounds it? Is this a megalomaniac attempt by a software company to win success in a market that is several sizes larger, or is it a revolutionary project that will make the gaming world a better place?
First of all, SteamOS is without a doubt a blessing for the Linux world. The launch of the Steam platform for Linux Helping to bring the system closer to more popular users and probably also contributing to a change in perception among NVIDIA and AMD graphics card manufacturers Who had recently announced On initiatives to create Drivers More deserving under Linux.
The SteamOS system is set to continue the trend and spur increased interest in Linux from both developers and hardware manufacturers and users - and we are always known for healthy competition.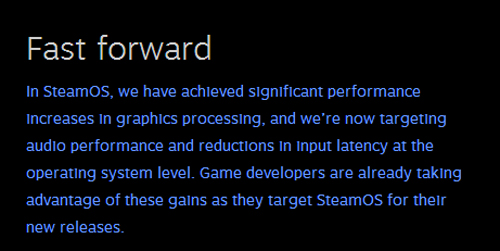 SteamOS may be able to offer better gaming performance than Microsoft's Windows Based
On the same hardware? If that is what will result in the investment of additional efforts and resources for improvement
The experience of playing personal computers on the part of Microsoft Office - We certainly hope so
The status of theSteam Machines andSteam Controller is quite different - we don't yet have enough details to make any meaningful conclusions, but at the moment these two products seem to be having trouble capturing gamer enthusiasts who usually already own a gaming machine and controls for their hobby.
However, Wallab's free and open approach that promises to give every user the ability to choose and do whatever they want with the products or without them is likely to add credit - even if it doesn't happen immediately, with time the PCs and controllers maySteam Will indeed become a great success,Steam He himself has been upgraded, perfected and has become, over the years, a great and popular alternative to buying games.
It is not certain that PLCSteam They are the next big thing in the gaming world, but the good news is
That Schwalb (apparently) will give us the choice of whether to adopt them or ignore them
In the next few months, a small beta will begin to allow us to find out more about theSteam Machines,Steam, The SteamOS system, and the way they all fit together. Until then, we can only say that Walev's line of thought (or at least how it is presented in the information available) has a good potential.
updating: Walev reveals the hardware waiting for the 300 users who are lucky enough to take the prototypes of the X-Steam Machine (created by Wallab itself), when it comes to hardware ranging from reasonable to monstrous.
The said Steam Machines will offer processors core i3 section of the Haswell, processor core i5-4570 or CPU core i7-4770, GeForce GTX 660, GeForce GTX 760, GeForce GTX 780 or GeForce Titan all seemingly come with GDNX GDN5 memory (something that is under question, given that some of the video cards are currently not available 3GB), 3GB RAM, hard drive The hybrid is 1TB with the addition of 8GB memory Based on 450 Watts internal flash power and 80Plus Gold standard power supply - all will fit inside a chassis whose dimensions are only 30.5 × 31.5 × 7.5 inches.
ComputersSteam Machine sounds like very intriguing products - we will keep you updated and updated with the new details.