New motherboards, especially those with the new AMD 785G chipset, continue to support the option of opening the cores that are locked in processors on the Phenom and Phenom II platforms.
One of the greatest pleasures of The Phenom II platform is In the two-and three-core processors, the remaining cores can be activated And earn quad processor cores. One of the common processors for opening the locked cores is the new Phenom II X2 550 BE, which with a motherboard based on the AMD 790GX or AMD 770 chipset, can be operated in such a way that all four physical cores are used. Even if not all processors of the two and three cores in the Phenom II series have four standard cores, relatively still there are many processors with normal cores.
In this regard, AMD has the potential to provide more sales because the customer's ability to buy a quad-core processor at the price of a two-core processor. AMD actually made "noise" and called on motherboard providers to isolate and fix the problem. Several months have passed and the problem has not yet been solved and even with the new desktop platform based on the AMD 785G chipset with the southern bridge chip SB710. This precedent comes almost knowingly, but it is our precedent there is no problem with it.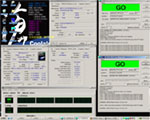 A dual-core processor becomes a performance monster
Chinese site called Coolaler.com offer That MSI's newest 785G board, the 785GM-E65, can not only open the two locked xNUMX BE's cores, but also provide stability to the OVERCLOCK processor. Coolaler Use the X2 550 in the new panel and simply fit the option in the panel BIOS ACC to Auto mode. The system was activated with all physical cores enabled and did not prevent overclocking to a clock speed of 3.609 GHz (18 x 200 MHz with voltage of 1.344 volts). The CPU was fully activated by running the Orthos software twice and simultaneously, in order to test the processor stability, a test from which the CPU came out with its upper hand.
We will be able to find out more about our new chipset AMD Early next month when she launched it.