A month and a few days after Who came to us The models are the prestigious quadrilateral cores from the new CPU generation Intel, Dual-core models for mobile and ultraboks are also landing, along with several new models for landfills
Have not found the processor that will fit your desktop? You have declined the purchase of your laptop to wait for the arrival of New generation processors? Now you have a wider range to choose from.
As early reports claimed, Intel waited for the beginning of June (or for 31 in May, if you are in the mood for accuracy) to launch processors The Ivy Bridge Dual-core mobile phones, both standard and Ultra Low Voltage, as well as a number of new and cheaper models for desktop systems - 14 new models in total.
In the stationary category, six were launched Processors, All from theCore i5. The most interesting model on the list is probably the "Core i5-3470, which offers four cores (without HyperThreading) at an 3.2GHz base frequency and a more basic built-in HD Graphics 2500 core. God-Core i5 3470 should be a low-cost option for consumers who want considerable general processing power but do not build too much on the built-in graphics core or on a massive speed with a $ 184 price tag,Core i5-3570K.
Another interesting processor is theCore The i5-3470T,Core The only i5 with only two cores (with HT, base frequency of 2.9GHz, graphic core HD Graphics 2500), but also a maximum thermal envelope of 35 watts only, which should make it very suitable for compact systems and / or very quiet. Also,Core i5-3470T carries the price of 184 dollars.
On the front of the standard-voltage mobile processors, we find four new models to join the quad-core QM processors launched in April and are expected to form the basis for a wide range of up-ThinkPad X230 The new Lenovo Is one example).
Three of the four models belong to the "Core i5, a member of the iXNUMX family,Core i7, and they all offer a pair of processing cores plus HyperThreading technology, a basic operating frequency of between 2.5GHz and 2.9GHz, and a maximum turbo frequency of between 3.1GHz and 3.6GHz, Core Built-in HD Graphics 4000 graphics and a thermal envelope of 35 watts.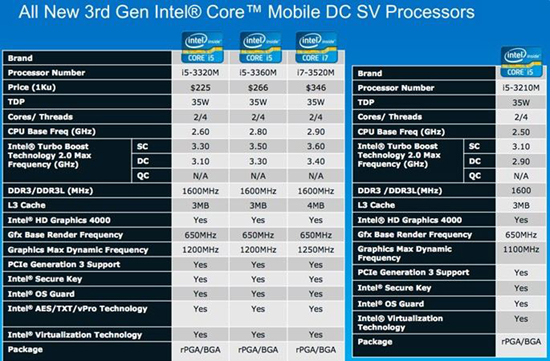 Differences Between New Processors and Generation ProcessorsSandy Bridge Their counterparts, it seems, amount to an improved built-in graphics core and slightly higher working frequencies, mostly in 100MHz.
Another advantage that should be given to the new production process at 22 nanometer is life battery But it seems that we will be able to look in depth only when there are enough computers Mobile Based on the new processors.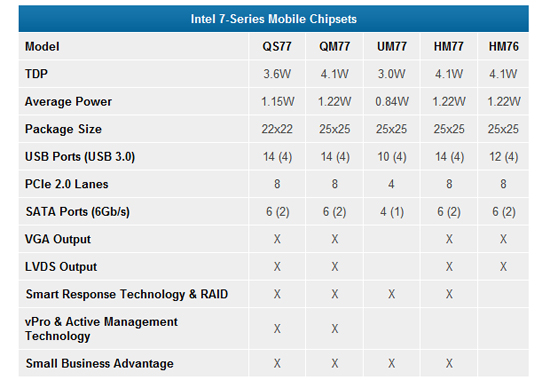 Source: anandtech.com
Last but not least, there are four new ULV processors, which are supposed to be the cutting edge of the ultrabook laptop they are aiming for Intel To establish itself as a new consumer category suitable for an era in it Smartphones And tablets are defined as computers for all intents and purposes.
Two of the models launched belong to the E-Core i5 and two to the X-Core i7, all offer a pair of HyperThreaing processing cores, a base frequency of between 1.7GHz and 2GHz, a maximum turbo frequency of between 2.6GHz and 3.2GHz, Core HD Graphics 4000 graphics and a thermal envelope of 17 watts, which can be adjusted.
Core i3 Core iXNUMX processors (portable and stationary) that will carry an even more popular price are expected to reach retailers during the third quarter of the year, Processors Of the base Pentium family in the last quarter of 2012. Somewhere in the beginning of next year, if there are no surprises,Ivy Bridge-E and who knows - maybe then finally we will see an eight-core and 16-threaded processor for the home user from Intel.