Samsung is making significant advances in the volume of memory chips and is developing a gigabit 4 chip and 50 nm production process.
In September last year, Samsung announced the first-ever development of a 3 gigabyte (DDRX) dynamic memory chip (DRAM) And in the production process (lithography) of 50 nanometers. Now, five months later and with the same manufacturing process, the company is introducing gigabit 4 chipset. Samsung is also implementing the production process in additional chips in the volumes of 2 Gigabit and 1 Gigabits.
The new chip can be applied to a variety of memory types: 16GB RDIMMs (Registered DIMMs) for servers, 8GB UDIMMs (8GB Units for PCs and drives Work, as well as 1.35GB of memory on laptops with SODIMM (Small-Outline DIMM). The new memory is designed to be energy efficient and operates at a voltage of 20 volts, which is 1.5 percent below the standard of 3 volts. For DDRXNUMX memories, for the new generation of eco-friendly servers, the memory should not only save on the electricity bill but also save maintenance fees and repairs involved in power supplies and coolants.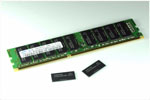 The new memory chips
Samsung does not say when the new memories will be available to the general public, but do not expect 4 gigabit chips soon in the mainstream market. According to IDC, which conducts market research in computing, memory chips DDR3 Of 2 gigabytes or more is only 3 percent of the DRAM memory market and up to 2011 they will be 33 percent.