After seeing what the other three motherboard makers are showing - this is the line that claims to have the largest market share with more than 30 new motherboard models
Gigabyte at Compotex 2014 - Perhaps the most impressive booth area we have encountered this year. This makes a lot of sense given the fact that Taiwan is the country of manufacture and development of the company's products.
After having seen motherboards from many of the best chip-based manufacturers
Z97
and-
H97
The news comes from GigaBit's turn and this time she seems determined and constantly fit
Motherboard
For all who require it. To date, no less than 34 has been announced for new models of motherboards, all based on
Z97
and-
H97
.
It seems that this time, GigaBite is determined to fit a motherboard for everyone who wants it and the arm is still on the rise. The main focus of GIGABYTE's display this year is its new gaming products along with a new color scheme. Although not particularly original, it seems that the color scheme of black and red simply has increased demand among
Gamers
And hardware enthusiasts.
These motherboards are designed for gamers and overclocks with a budget that is not very high. They are decorated with the new theme, including sound cards and advanced registrars, and of course the other features of the printed circuit board that also accompany other series such as moisture protection and the use of solid capacitors.
A specific model that caught our attention is the
Z97X-Gaming GT
We have not heard of it before. It seems likely that this will become a favorite for advanced computer system users with advanced built-in sound core
Creative
, Abilities
The fast
Favors and support in arrays of up to four
graphic cards
At the same time.
Along with the motherboards in the gaming series, we were presented with a project
Modding
Ambitious based on the big brother of the
GT
, Motherboard
Z97X-Gaming G1 WiFi BK
. This computer system includes two
graphic cards
780 GTX Ti
Made in GigaBite and Enclosure
Air 540
Of Corsair.
GbBight Overclocking
In addition to the motherboards designed for gaming. Gigabytes have motherboards specially designed for the execution of
The fast
Extreme processors, this series of -
SOC
(MT
Super OverClock
).
GIGABYTE demonstrates the tools used by professional Overclocks to perform the expeditions under extreme heat conditions. They use suspensions such as copper to pour liquid nitrogen and liquid helium and they heat printed boards just for the ability to transfer and deliver more power to video cards under
The fast
. All this, to achieve the highest performance and break world records.
This is the new addition to Gigabit's fast-
Z97X-SOC Force
. This motherboard is designed entirely for speeding, especially under
Cooling
extreme. In this position the company demonstrates what a system looks like working with this motherboard.
We are pleased to see that this time Gigabyte is making a dramatic change in these motherboards. generation
Z87
של
SOC Force
Came to the shelves in Israel carrying a particularly heavy price tag of NIS 2400. Generation E-
Z97
Comes at a significantly lower price and uncompromising on quality and features. Today it can be found for sale in Israel under a price tag of about NIS 1200. Definitely a welcome step.
There are also video cards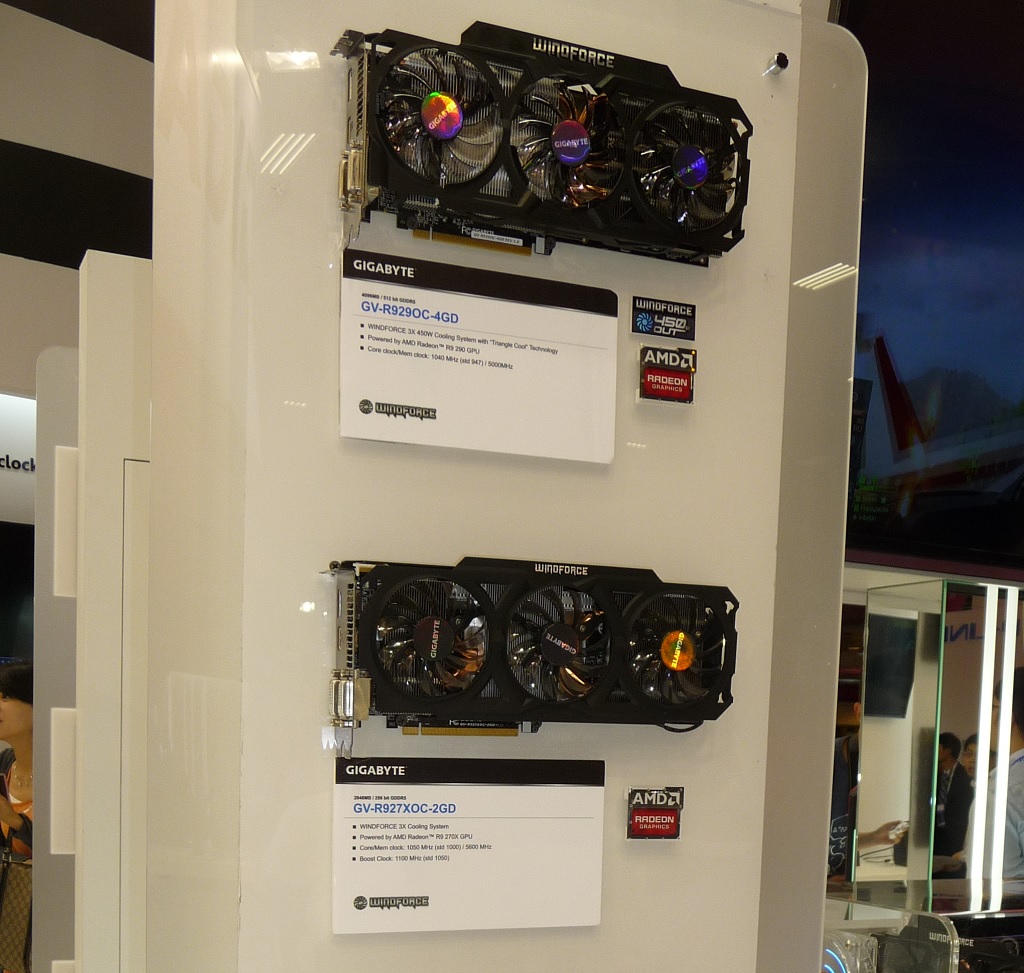 In addition to its new motherboards, GigaBite also displays its new graphics cards that carry the GIGABYTE
Cooling
God-
Windforce
The known. There are no new products here, we have already seen them all in launches and reviews so far. It has been refrigerated for a long time
Windforce
Demonstrate great capabilities in site reviews.
In conclusion, GbBight has exhausted all potential from launching the new platform, which is the largest number of motherboard manufacturers. Soon those who have not yet landed in the land will land and begin the battle for the consumer. One can only hope that we will make as much quality as possible in as little money as possible.