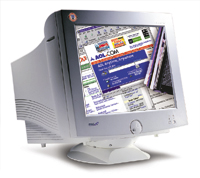 Most of you are probably using a computer screen. Even at this moment…. (What not?!)
Have you ever wanted to buy a screen, but you did not really understand what they want from you with all these concepts?
Keep reading, and you will know everything…
Basis:
Most of the screens sold today are based on cathode tube (CRT, Cathode Ray Tube) while computers Mobile It is mainly used in Liquid Crystal Display (LCD), which has also entered the desktop market.
When you come to buy a computer, there are some data that will always appear:
Display Type: (probably) CRT or LCD

Connection type: VGA or DVI

Maximum resolution

Point size

Maximum refresh rate

Color depth

That's how it all started….

The older ones from us (and I am among them, for some reason ..) must remember the same black-and-green screens in the seventies בשם (For God's sake, I was not born in those years!)
The revolution began in 1981, a year in which IBM Launched CGA (Color Graphics Adapter) screens that were capable of displaying 4 colors (black, white, blue and purple) and working at a resolution of 320 × 200.

In 1984, IBM Removed the EGA (Enhanced Graphics Adapter) screen, which displayed 16 colors and worked at a resolution of 640 × 350 (somewhat odd resolution, which some of the "new-old" screens (most likely referring to the 14 "screen they have in the warehouse ..) did not Can present. This is the reason why it is almost impossible to play old games in 16 colors, and it is impossible to remember nostalgia ..).

After another 3 years, in 1987, has spent IBM The VGA (Video Graphics Array) screen that displayed 256 colors and worked at a resolution of 640 × 480.

In 1990, the XGA (Extended Graphics Array) screen was released to the world, displaying 16.8 million colors at a resolution of 800 × 600 and 65,536 colors at 1024 × 768.

Most (if not all) monitors sold today work in the UXGA (Ultra Extended Graphics Array), which supports 16.8 million colors at a resolution of 1600 × 1200, depending on the capabilities of the graphics card in the computer. This is probably what you have at the moment on your computer.