The hardware and computer market in the movement and we are updating you with computer specifications suitable for office and home use in low budget and uncompromising quality
The recommended specification system
Our products are updated frequently with changes in the Israeli market and include a variety of specifications according to your budget and usage.
However, in each category there is a specification that is slightly more profitable than the others, with respect to the performance ratio of the shekel or its compatibility with the category in which it is located.
Therefore, in the next two weeks within a month
October
(A month dedicated to Overclocking, Cooling And hardware in general) we will show you the few most recommended specifications in each category and we will list them slightly.
The specification we will present this week is a specification for standard household or office uses, which appears in our recommended specifications section at an average cost of about NIS 1600. I calculated the cost as the average price in the market in a variety of stores with an upward price split so that you may well find these components at low prices and even significant.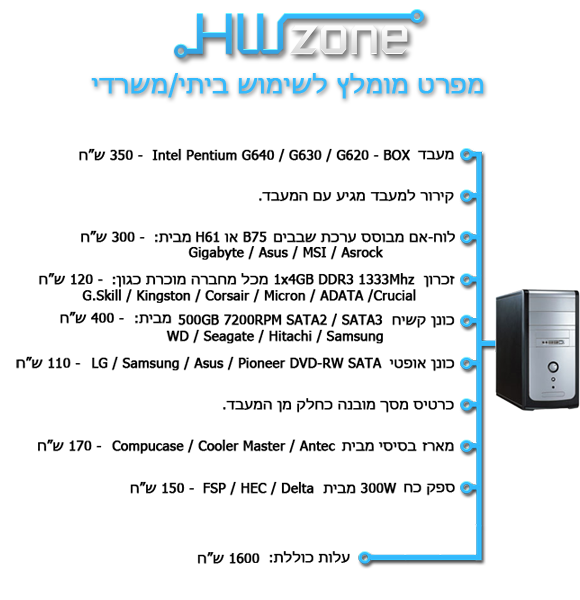 The specification is quite basic, but most of the time it will go beyond simple uses such as surfing the web, watching movies (including high definition content), listening to music, writing documents and presenting presentations in office and more.
The specification includes an excellent and cost-effective dual core processor Intel For standard uses that are coupled to a basic chipset based motherboard
H61
או
B75
The new, together with the 4 gigabyte זיכרון
RAM
.
Also, the specification includes hard drive 500 gigabyte, burnable
DVD
Standard, one of the listed companies Enclosures Basic, but mostly high quality) and provide a budgetary power that is not too simple and reliable.
Now you are probably asking yourself - why did we choose the cheapest specification in the category and not one of the other powerful and upgraded specifications? Well, it's very simple. Such standard uses do not require more powerful hardware. There is no need for a more powerful dual core processor (not even a series
i3
) And of course not quad-core, quantity זיכרון
RAM
Or a separate graphics card, since you simply will not notice the difference, and most of the difference will not be negligible.
Alternatives or not to be

In the latest recommended specifications update, most of the alternatives listed at the bottom of the specification have been merged into the specification itself and now that the price and hardware quality are similar between the companies - a specific model was not specified due to the different hardware in each store. Therefore, the chance that a self-respecting computer store will not have this hardware is quite low.
Those of you who want a computer that will be enough to run light games (and even modern graphics settings are often low), you can take the same specification recommended, only with a series processor
Vision A4 / A6
Of the company
AMD
When Processors These include Core Graphics and motherboard-based chipsets
A55
או
A75
Of the companies specified in the specification.
Of course, you can change the specifications according to your preferences. You can add more memory or take a higher volume hard drive. You can also choose a motherboard with various supports such as various video outputs, support for connections
USB3
או
SATA3
New and more. If you are undecided and still do not really know what to take or where to buy, of course
Computer specifications
ו
Consumer Forum
You are always at your service for quality advice.
We remind you that there is not always a need to perform many small upgrades as these will defeat the purpose of the budget and the final result can be a computer with a significantly higher price than you expect without a significant improvement in the usage experience.

Click here
To go to the office computer and home use category in the Recommended Specifications section