Most home users are usually looking for cheap computers that will give full value for money.
Newspaper advertisements can certainly find cheap and ready computers. The question is: do they give money?
The answer is, probably, no.
Such computers in most cases include a fast processor (to attract the eye), and other parts of extremely low quality (to save costs). This can be reflected in the fact that in order to save more 20 shekels in the final price they will give you, for example, Motherboard Significantly less good and without practical upgrade options for the future.

This guide comes to guide you, buyers, who are looking for cheap computer, but do not want to pay dearly.
Case:Generic Midi-Tower ATX
Includes 300w provider.
price: About $ 60

Because Mini-Tower cases are simply too small and overcrowded, and full-tower boxes are too expensive, the Midi-Tower chassis is a perfect solution.
However, today's processors consume a large amount of power, as do the rest of the system components, so it is highly recommended to buy an 300w supplier (it is very good to make sure that it has at least 12amp power).
---

Processor: AMD Duron 800Mhz
price: About $ 90

At such a price, should we say something else?
Well, yes:
The processors of AMD, And especially the Duron processor dropped the Intel To the boards. The Duron wins his opponent from Celeron in every possible test, and even costs less.
It even approaches the performance of the Pentium 3 (and even passes it on certain tests), even though it costs half of it!

In our small country there are many rumors about instability in AMD systems….
Well… that's just not true.
At the beginning there were problems with the boards for these processors, but these problems worked out perfectly!
And in a concluding sentence: based systems AMD Winemaker systems are no less stable, and perhaps even more, than established systems Intel.
---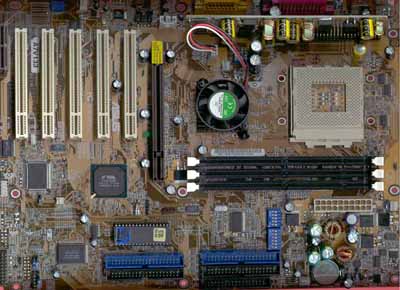 Motherboard: ASUS A7V133
price: About $ 160

It is simply the most stable, and best, board in Israel (and in the world, in the opinion of many) for my employees AMD.
In addition, the use of the Via KT133A chipset, which supports processors with an FSB speed of 266Mhz (as opposed to 200Mhz in the "old" chipsets), enables very successful upgrade capabilities for the future.
True, you can get cheaper boards, but is the headache and inability to upgrade the computer in the future worth the 200 the shekels you save? Here too, it turns out, the answer is no.
For those who still want to save, the Aopen AK73ProA (the price: 140 $), the same chipest, is a cheaper solution, but also less good.
---

Memory: Generic 256MB pc133
price: About $ 100

Memory prices have dropped significantly recently.
A few months ago, the price of 256MB זיכרון Was over $ 400!
At such prices, it is difficult not to recommend 256MB.
The company that makes the memories really is not important, assuming you buy in Israel. Here, everything is the same.
For those who want to save a little more, 128MB is also a respectable quantity (price: 50 $).
---