Advanced third party cooling from Arctic R9 290 on the way?

In the Chinese Chiphell forum, which regularly takes care of scandals and scoops, the user introduced the Accelero Xtreme cooler in a version optimized for the graphics cards that carry GK110's core NVIDIA And the heart of Hawaiian AMD Which includes the new R9 290 series.
The Accelero Xtreme cooling is today, and still is, after a number of different Royals, one of the most advanced air coolers on the market specifically designed for high-power video cards. To date, there has been a considerable lack of advanced refinements made by third-party companies such as Arctic for advanced video cards NVIDIA. Perhaps this is because of the relatively low demand, perhaps because of the speed limits that do not understand a particularly advanced third-party cooling advantage.
The cooling is made of 5 copper pipes with a diameter of 6 millimeters, a solid aluminum base and aluminum fans for the entire length. On the body Cooling It is a chassis with 3 fans controlled by 92 millimeters diameter. Along with the heat sink, depending on the version, will also come body Cooling Which is designed for memory chips and voltage stabilizers. body Cooling It's called Jun-Sync.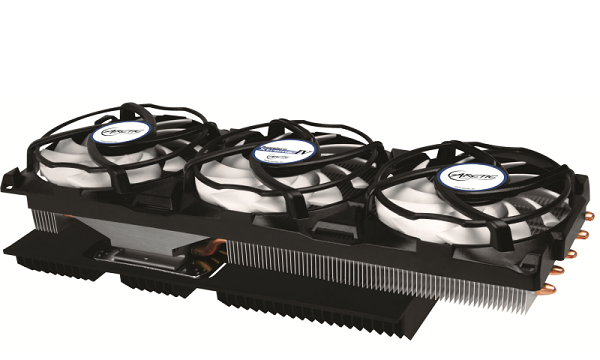 The name of the cooling is revealed Arctic Accelero Xtreme IV is the fourth course, although there may be a variety of Royals bearing this name. The graphics cards it supports are:

NVIDIA Geforce

GTX TITAN
GTX 780
GTX 770
GTX 680
GTX 670
660 GTX Ti
GTX 580
GTX 570
560 GTX Ti
GTX 560 SE
550 GTX Ti
GT 9000 Series
AMD Radeon

R9 290, X
R9 280, X
R9 270, X
HD 7900
HD 7800
HD 6900
HD 6800
HD 6700
HD 5800
HD 4800
HD 3800
The availability and price of the refrigerant is not yet known, but if it is launched soon, it is expected to capture a price similar to its predecessor, the Accelero Xtreme III. The consumers to whom the product will be addressed will be primarily those early purchasers of R9 290 and R9 290X Cooling The noisy and inefficient bellows. Switching to this cooling will improve significant operating temperatures, although note that the width and length of the graphics cards will increase significantly.