Kursaier introduces new computer packages at Computex, refreshing old lines
Corsair this year has a lot to offer and starts with the announcement of new computer cases.
There are three new models, apart from the other innovations in the field and product lines that we will be privileged to see later in the exhibition.
The ventilated cube - Air 240
After successful launch of The Air 540 chassis, Corsier responded to the community request and launched a smaller version of the chassis suitable for MATX motherboards.
Like its older sibling, Air 240 focuses on separating the motherboard partition and the partition of components that do not connect directly to it. Thus, in one compartment with a window, he found the motherboard, the cooling equipment, and the expansion cards, and in a separate compartment in the back was a means storage Alongside the power supplier. The price of the Air 240 is expected to be 90 dollars.
The baby for the Graphite family - the 380T

Corsaire's Graphite series is a series Enclosures Known for its air flow and impressive design. At the Computex exhibition this year Corsaire presents two new Graphite enclosures. One is an enclosure designed for ultra-small MITX-based systems.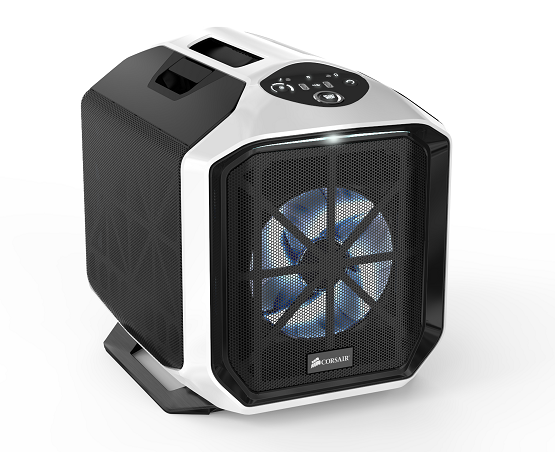 The small 380T chassis gets an elegant look with a different design than usual. Instead of being a cube, the 380T decided to be a small jet missile. It is equipped with an 140 millimeter front fan and fan networks from all directions. It comes along with a handy handle to move between places and ideal for needs like LAN parties. The Graphite 380T is expected to be available in August and will cost $ 130.

The big brother to the Graphite family - the 780T

The second package Corsire launched Enclosures This is the 780 T. Unlike its siblings in the series, the 780T is a full tower configuration designed for large XL standard motherboards.ATX.
Elevated to a high altitude, the 780T has many berths for cooling fans and radiators. Corsier also folded the corners of the case for a futuristic and advanced look. The Graphite 780T contains a blackened side window for the hardware display using internal LEDs. This chassis is expected to come with two front-end 140 millimeters and a rear fan. It will be launched in September this year and will cost 190 dollars.