Two reviews on different 5.1 sets from Creative were added to the internet today… Appetite:
Cambridge Soundworks 510D @ Gamers Depot - a new set from the sleepwalking series of Creative. The new set contains 500W RMS with each speaker having a power of 70W and a subwoofer with BUSH technologies comes with a power of 150W, and all this causes a noise of up to 96dBA. Also the speakers come with both analog and digital connection and a weird remote.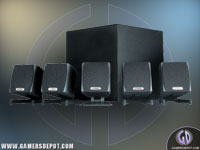 Creative Inspire 5300 @TechSpot - Set 5.1 from the better Creative series. The next set is considered "budget" and is intended to replace the old DTT 2200. The system includes a total of "only" 48W RMS, with 7W reaching all speaker And 18W for subwoofer and all this causes 75dBA noise. One of the interesting possibilities of this system is the fact that if you leave the sub / chin unconnected, the system will create a virtual center by adding another channel .. especially good for music, not recommended to try games and movies.