The first computers that support DDR4 memories are not expected for at least another year, but Micron has speculated Primary modules of DDR4 With 284 pins already during the 2013 CES exhibition

The experimental platform hardware information used to illustrate the memories is unknown, but it appears to be based on a recent chipset Intel With an adapter board that allows the DDR4 memories to communicate with the controller,DDR3 Built-in motherboard (similar to the Merry X-HUMAX Pentium X-NMR)
Thanks to the advantages of architecture, at twice the speed of the DDR3 (2133 MHz compared to 1066 MHz), the memories offer at this early stage double the performance of those of the previous generation.
The clock speed can be accelerated to 2400-2800 MHz without a problem, the company reports Micron, And the JEDEC-DDR4 Allows frequencies up to 3200 MHz so that memories are still expected to increase significantly in performance later on.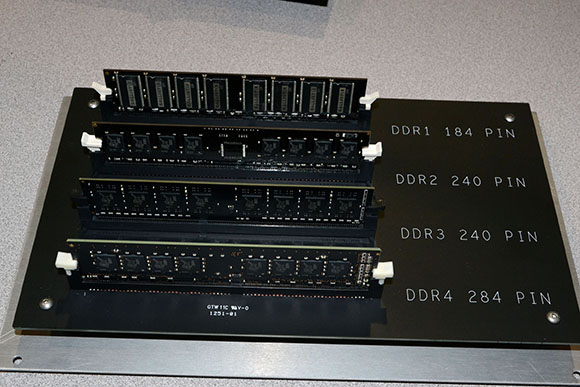 Bluetooth technology DDR Throughout history
The new device also lowers energy consumption by lowering the voltage required from 1.5 volts on-DDR3 To 1.2 volts inDDR4.
Later, Memories DDR4 An energy bucket will operate at an even lower voltage of 1.0-1.1 volts.
The new modules come with an initial volume of 4 GB (four times the initial volume of DDR3), with a single-sided module containing 4 GB, and a double-sided module offering 8 GB. Memories These are servers where density memory Improved energy saving requirements are always required.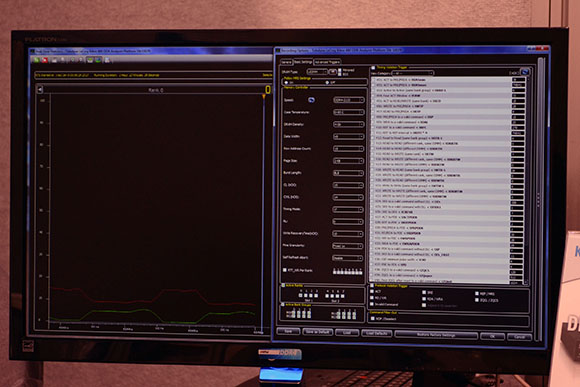 Mirror screen analysis of memory DDR4
Micron designs a comprehensive line of products that includes standard RDIMM, LRDIMM, SO-DIMM and UDIMM memories and those that include ECC. Technology adoption DDR4 On computers Mobile And stationary during 2014.
The improved density is expected to double the standard of memory in computers, while the price remains similar to that of memory Average today.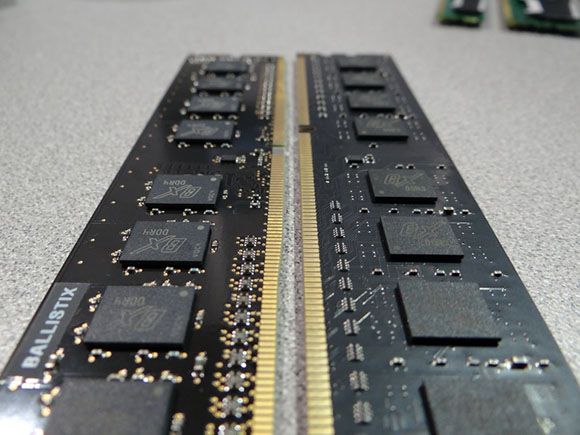 Comparison between DDR3 And DDR4
Micron's model improved the ergonomics of the module so that the language is not straight but slightly curved, so it is easier to insert and remove the memory from the slot.
Micron also made a small comparison between memories DDR, From DDR1 in 2000-2001 to 184 pin configuration, to the upcoming version of DDR4 284 pin configuration.
| | |
| --- | --- |
| | |
| Information table showing the improvements in DDR4 | The progression of memory types over the years |
With DDR4 data transfer rates double those of DDRXNUMX DDR3 At the time of its announcement, Crucial Ballistix memories are a great demonstration of the latest generation of memory technology from Micron, "says Jim Jardine, Director of DRAM Memory Marketing, adding," Other benefits include low-voltage memory. DDR3, Will make the DDR4 For important development in memory technology that will affect computer systems from the personal computer to information centers "
In every new generation of Memories, The speed increased by hundreds of percent as well as the volume of memory chips themselves. This progress is expected to further improve the speed of PC work and allow for smoother operation as well as games and applications that include more processes and complexities in the coming years.
Do we need quick memories in larger volumes, or is it a race that has become unnecessary when the software is still not up to speed? Share your thoughts with comments!