As every year, this month, the CeBIT exhibition for computers and technology will take place between 15 and 21 in Hanover, Germany, and we will be there to bring it to you every day.
This year
We will be there to cover and present you exclusively
The latest innovations through our representative, Mor Shoval, directly from Germany. Throughout the exhibition, updates, hot reviews from the field, interviews, photos and a variety of exclusive and interesting information are included.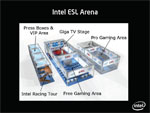 Intel Pavilion
CeBIT is the largest international exhibition in the world in the field of electronic entertainment, computer hardware and technology. The exhibition is aimed at the entire population, as almost every sector interested in technology will find what they are looking for - home users, hardware enthusiasts, business people and even IT people.
The exhibition has been held continuously for no less than 21 a year, every year since its inception in 1986. Some interesting data: In 2006 exhibited in the exhibition over 6,200 COMPANIES, less complete than 70 States, and visited it over 430,000 visitors from all over the world. This year the organizers expect no less than a million visitors from all over the world, should be interesting.
The CeBIT exhibition is huge in size, spanning more than 30 giant halls, where companies will showcase the range of innovations and products that will occupy the market in the next few months, spanning over a thousand square meters. The number of exhibitors this year is estimated at 280, with Israel having 6,000 exhibitors that will be spread over 55 square meters.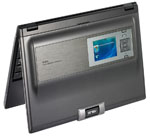 Mobile from ASUS
Intel, which has built a special pavilion that extends across 600 square meters, is expected to introduce Santa Rosa, the next generation of mobile technology, fourth generation. We are also expected to see them as a demonstration of 45 nanometer processors and try to push some more UMPC computers that it has been trying to promote for some time.
On the AMD side this is its first exhibition since its merger with ATI and it will probably focus on it. It is expected to show all common products such as new video cards and chipsets. And yet their booth is likely to generate less media noise as the R600, the next generation of graphics processors, will be absent from the exhibition.
Both Intel and AMD will focus on the gamers market, while at the time of the exhibition, games will be held with prizes worth hundreds of euros. Intel has built no less than an entire pavilion, called Pro Gaming Area, which focuses on games and everything related to it. AMD is also the official sponsor of the WCG World Tournament.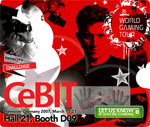 Wined by Wendell
Other large players in the field of computer hardware are expected to present large and interesting innovations to the field.
ASUS
Announced that it will demonstrate a host of innovations and computer technologies
Mobile
, As well as computers
Mobile
Made. It will also demonstrate a number of interesting technologies for motherboards and some innovations that integrate the operating system
Vista
.
Strange as it sounds,
XFX
Are going to immortalize the prints of the famous actor Jonathan Wendell, better known as Fata1ty, when at the end of the event the handprint will be drawn among the many visitors to the pavilion. Wonder who will be the happiest winner?
If you are interested in more details, stay connected to be updated daily on the variety of innovations and technologies that will be presented starting this coming Wednesday…