Who is the largest graphic core maker in the world? NVIDIA? No. ATI? Please try again…
Intel is the world's largest manufacturer of graphics processors (GPUs), with more than half of the world's computers working with a chip chip. True, these are the weakest chips that come in an understandable way on motherboards and laptops, but you can not ignore this tremendous power.
Today, Intel also seems to have realized the potential they have in hand, as the company announces its entry into a new market - the non-integrated video card market, designed primarily for high-performance consumers such as gamers. Intel has set up a new division in the company to support the new products, the Intel Graphics division, and it seems that it will now also handle all the other families of the company's graphics processors.
Intel's integrated graphics chips are not very popular among the professional audience, and are considered to be very weak image processors. With the move to the PCIe channel, Intel introduced the GMA (Graphics Media Accelerator) family of models 900 and-950, Which managed to deliver reasonable performance, DirectX 9 support and nice frequencies - but still did not allow for real enjoyment of heavy applications like games.
About a year ago, Intel acquired a number of small companies engaged in the graphics field, and today it seems that the picture is beginning to clear up. In a press release released today, the company said it is founding a new graphics processor family and that it plans to capture within about a year about 30% of the global non-integrated video card market. The new chip family will be called eXtreme, and it will currently contain three models - 300, 360 and 360 Super. The three chips will be manufactured using Intel's new 65 nanometer lithography manufacturing process, and will support a host of exciting new technologies, according to Intel.
The eXtreme 360Super is the strongest of the three chips when it comes with an 675MHz core, GDDRXNUMM at an 3GHz frequency and an 1.4bit memory controller. The cards containing the 512Super will enjoy 360MB or 512MB of memory and of course PCIe X1024.
The eXtreme 360 should be an interim solution when it will undoubtedly be a strong card but it should be significantly cheaper than the 360Super. The standard version of the 360 will come with an 620MHz core, 3MB GDDR512, an 1.15GHz frequency, and an 512bit memory controller. According to Intel, the eXtreme 360 should be stronger than any card on the market at a similar price.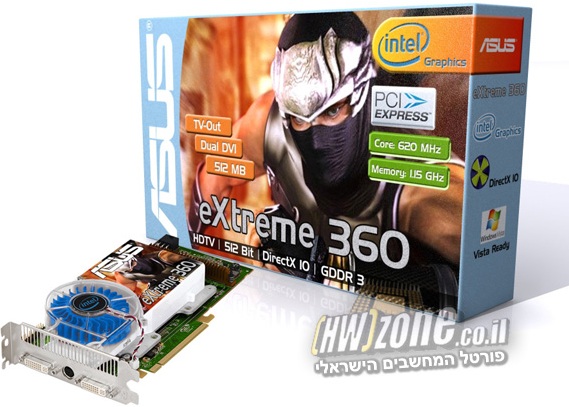 The eXtreme 360 ​​- a new king? (Click to enlarge)
The latest card in the series is the eXtreme 300, which will be Intel's cheapest non-integrated card. The card is expected to show a popular price and allow enjoyment of movies and a variety of additional outings for those who are interested. The 300 will enjoy only 256 MB of GDDR3 memory at 900MHz and a core at 450MHz - definitely more than Intel's current GMA cards.
A number of companies have already announced that they will produce video cards with Intel's new chips, among which are ASUS, Gigabyte, MSI, Info-Tek, TUL and PINE.
The eXtreme chips are expected to be the first chips in the market that fully support DirectX 10 (Microsoft's new set of commands to be integrated into Windows Vista), high definition videos and HDR. The new chips will also support many Intel technologies, such as RDR and TopVideo, and they certainly look interesting.
We are still missing three details - price, performance and availability date. While regarding the date we can tell that according to Intel it is the months September-October, the network does not yet have independent performance tests and the recommended prices are not available - we will in any case - be updated.
Do not discuss the subject in our forum
To the Forum Display and Graphics