China's super-fast trains set new speed records while the United States tries to catch up
Last December, a prototype of a passenger train, moving between Shanghai and Beijing, broke the speed record for high-speed commercial trains that did not undergo special upgrades - when it reached a speed of 486 km / h. The achievement, the peak of six years Development By CSR Sifang Locomotive & Rolling Stock, was an example of the silent revolution that is changing the world of trains. In the last fifty years, 26 countries have developed or engaged in the development of high-speed railways, including France's TGV and the Seoul-Fussen line in South Korea. Even the United States, lagging behind other countries on the issue, has recognized the need for high-speed railways to improve the country's infrastructure, strengthen its economy and increase international competitiveness.
High-speed trains are usually divided into two categories: conventional, which incorporates electric-powered trains moving on wheels and steel rails, which are usually capable of reaching speeds of 320 km / h, and Maglev trains, which operate on the principle of magnetic repulsion between a built-in magnet and another magnet embedded in the track. And capable of reaching speeds of up to 435 km / h. The vast majority of development has been invested in conventional systems. In an effort to alleviate the rising density that is a product of a rapidly growing population, the Chinese Railway Authority intends to add 15,998 km of tracks by 2020, tripling the size of its current network and beyond.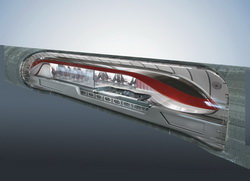 In the United States, progress is slow. Geographical factors (too much distance between cities), economic constraints (expensive to build within cities) and politics, constituted obstacles. But the plans are moving forward. In February, Vice President Joseph Biden announced that in the next six years, the United States would invest $ 1 billion in high-speed railways.
Some of the most exciting research during all the developments on conventional high-speed trains, has actually been done on Maglev systems. In 2004, due to fears of high costs, Chinese officials froze plans to build a Maglev line between Shanghai and Beijing, so at this point, Maglev trains only cover short distances. The fastest Maglev train currently operating reaches a speed of 431 km / h on a route that takes seven and a half minutes and is 30.5 km long between Shanghai Pudong Airport and the city center. But engineers at Southwest Jiaotong University in China are working on the next generation: cranes moving in vacuum tunnels that could shatter all previous speed records, reaching speeds of about 999.5 km / h.
More about innovations in the June issue of Popular Science - For a special introduction to HWzone.co.il surfers