Severe flooding in Thailand paralyzed the production of hard drives, and as a result, prices are expected to rise
recently,
Hit a huge flood in the state of Thailand
Killing hundreds of people and damaging many infrastructure throughout the country. Among other things, the flood caused severe damage to the industry in the country, and especially to two huge manufacturers in the hardware world:
Seagate
and-
Western Digital
. Last Wednesday, the companies exposed the issue to journalists and what each of them does about it.
According to the report, it appears that the damage to the company
Seagate
Was easier: all the company's factories in Thailand are active and there are no logistical problems that prevent employees from reaching them. However, the process of supplying components that make up the hard drives has been damaged and the supply of hard drives from the company's gates may be delayed worldwide.
"Seagate actively manages the supply chain and production output of the factories in order to coordinate the production capabilities and adapt the construction capacity to the schedule so that they meet the requirements of our customers. As a result of the disruption created by the floods,
Seagate
"The supply of hard drives is expected to be delayed in the current quarter," said a company spokesman.
in
Western Digital
The situation is a little more problematic. The company has announced that production of hard drives in Bangkok will be delayed in the current quarter due to road problems in the flood-hit area, which prevents both factory workers and production materials from reaching it. Despite this, the company submits that
37,000
Ovadia in Thailand is healthy right now. also
Western Digital
Is working hard to ensure a minimum delay in sending hard drives around the world, although at this time production has been suspended so as not to endanger the company's employees. Approximately 60 of the company's production capacity is concentrated in Thailand, and perhaps this is Seagate's opportunity to recapture the title
The largest hard drive manufacturer
?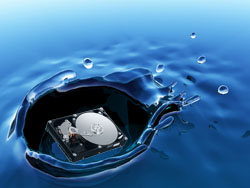 This is how it looks? Illustration
And despite the problems this is a successful quarter
In the second quarter of the year 2011 sold
248.8
one million
hard drives
, Drives
SSD
, Burners and optical drives when it comes to an increase of 4.5 relative to the previous quarter and an increase of 5.6 by 1% compared to the same period last year. Drives
SSD
Showed an impressive increase in 21.4 sales, with 3.4 selling about one million such drives.
"This is an ironic turnaround that the earthquake in Japan has actually managed to strengthen the volume market. Manufacturers have ordered more and increased inventory to ensure regular supply," said Fang Zhang (
Zhang
) M-
IHS
, The company that carried out the study. Apparently, even the floods in Thailand will succeed the hard manufacturers to overcome.