The internet giant, Google, has invaded another market segment - instant messaging software - with Google Talk software That is She took out (Still in beta) yesterday.
As befits Google software, expectations were high. But as big as the expectation is, so is the size of the disappointment (or the disappointment in this case is absolute and independent of expectations…) - Google Talk has proven to be a very basic and rather poor system for many to know.
The software allows making simple text calls (even without minimal smilies), VoIP calls and voicemail. In addition, it is based on its own network (the login is using your Gmail account) and right now Do not allow Include conversations with other networks (ICQ, MSN Messenger, etc.), making it unusable.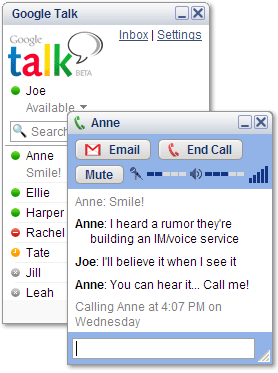 Google decided to use the Jabber free protocol, which could allow other programs based on the same protocol (Miranda, Trillian, and more) to connect to your Google Talk account. But actually, why would anyone want to do this when there are already too many separate networks that insist on not communicating with each other?
After all the hype created around, in fact, any rumor about a future Google project - releasing Google Talk in its current format is just a disgrace. ynet They described The same is true: "So 99"...
It is important to note that this is still a beta version, and many more options are still being planned, but for now - in my opinion, in one word: "install". In two words: "do not install".
For a brief review (because there is simply nothing to review?) On Ynet: "Talk and wind and rain no ".