HP
ישראל
, Or rather the computing division headed by Shlomi Price, intends to launch about a hundred computer models in the coming year, Price announced at a press conference held by the company this week to present some of the new models to be sold in Israel in 2011. Although these are computers intended for use throughout the entire market, most of the company's activity in recent years, and most of its growth, is in the consumer field and all the computers presented belonged to this category.
It should be noted, however, that the display featured a slate, the company's recently announced tablet, which was supposed to be the first tablet to run with Microsoft's Windows operating system (7), although shortly before its release, HP announced that it
Intends to consolidate tablet devices and smartphones
Its webOS 2.0, the operating system it received when it bought Palm six months ago.
According to Price,
"We are considering bringing the Slate computer, along with its planned launch in Europe and the Middle East,
And cellular phones
HP
Already in the second quarter of 2011. "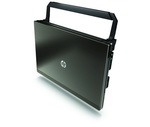 HP Mini 5103
HP completes the first nine months of 2010, strengthening its position in the first place among the companies operating in the personal computer market in Israel. According to IDC figures, which was brought by Price, the company reached a market share in the third quarter of the year 23.4% of sales (According to the same report is located Lenovo In second place, with 14.9%). "2010 was a great year for the personal computing division. There is no doubt that we are growing, and also because of teaming up and synergy with other organizational entities, such as our collaboration with Pelephone," Price said. In terms of real numbers this market share has led, according to HP, For sales of about 180,000 computers in the first nine months of 2010, and although he did not provide numerical data, Price claimed that this is an impressive increase in terms of units compared to 2009. He also added that sales of desktops entered the business market HP ישראל To approximately 30% of market sales.
"We launch every year a huge variety of computers for every segment and every category, from designed mini-computers, through computers for home work, computers for businesses, workstations, desktops and more. The great variety, the wide deployment, the customer service that gets special emphasis, the establishment of experience complexes and "Store within store" in over ten Networks "Central marketing in Israel - all of these enhance the customer experience and make it more enjoyable," Price said.
Moshe Brick, the director of laptops at the Israeli branch of HP, presented some of the new computers that the company intends to launch in the coming months. Among these computers you could find a novelty for the line of Mini 210 computers that will now come in a slightly thinner cut and in some young colors and special rings on the computer case, and with an update to the current Atom platform. The computer in its new version should also work no less than 10.5 hours. The computer is based, like its mini-friendsMobile The new ones, on a 10.1-inch screen and will cost about 1,999 NIS.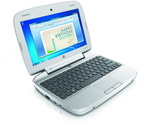 HP Mini 100e
Another netbook PC launched by HP in Israel is the 5103 Mini, which is equipped with the latest Atom processors and supports memory DDR3. It comes in several versions, one of which is equipped with a touch screen.
It is also possible to purchase the computer with a special carrying handle, and it weighs only 1.2 kilograms. This computer will sell for NIS 2,600 or more and is intended primarily for the business market.
The mini-computers on display are complemented by a slightly unique computer designed for school students and designed, at least from the outside, as a small round suitcase with a carrying hand, in a look somewhat reminiscent of the Classmate that Intel previously tried to develop as part of a computer project for each child. This computer, beyond its round appearance, contains a number of software that should make learning easier, including basic office software of Microsoft Office. The computer is called the Mini 100e Education Edition andHP ישראל They have not yet decided whether to import it to Israel.
The display also featured a new Envy computer with an 17-inch screen and display 3D with the help of Glasses Special comes with the computer (which costs 10,000 NIS), but a black computer with a 14-inch screen, a special embossing on its back in red and sparks of red on the keyboard itself is what stole the show.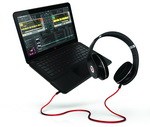 HP Envy 14 Beats Edition
This computer, called Envy 14 Beats Edition, contains a sound component developed with Dr. Dre and Amor, at least on paper, provide a completely different hearing experience. The computer comes with software to create Music And with headphones Special. Price: 8,000 NIS.
Another topic in the headlines of the event already belongs to the ICT market. According to Price, HP Is considering importing the latest Palm phone pair to Palm Pixie Plus and Palm Pre 2. The company is now checking the market conditions and how to distribute the phone, and according to Price, they do not even reject the direct distribution of these devices, and not through cellular companies. Either way, the journalists could look closely at the two personal phones of the host who had already been converted to Hebrew.