As my new tradition, you have a number of high quality images obtained by the excellent Qur'anic site DarkCrow.
A little further to the previous article, the Black Koreans got one nice picture of the packaging inside which comes the ASUS V9180 Magic GeForce4 MX440 based NV18. For some reason, Asus started to crumble on color and unlike the rest of this packaging, it is shameful and ugly…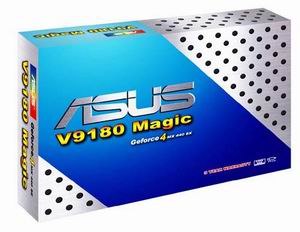 And a little more about the NV18, the black Koreans got the MSI poster for their G4MX440 8X, the poster can easily see that the card comes with BGA memories and a big Hitsynik relative to the core, and of course the traditional red PCB and Bundle games and useful applications.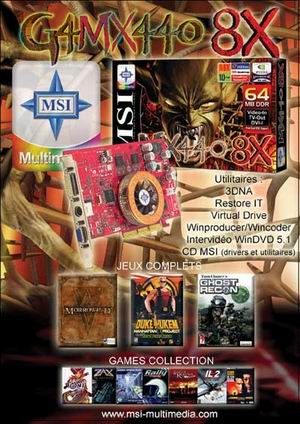 And now for something more interesting, the new card 's ABIT With the terrifying cooling, the site released a slight review of the card.
Unfortunately I do not know Korean, so I had to look only at the pictures and technical specifications from which you can see that the card comes with memories Hynix 3.6ns and thanks to the somewhat creepy cooling card which is Ti4200 comes at the speed of Ti4400 already from the factory.
The only interchmark that could be found was 3DMark2001SE where the card competed against the standard Ti4200 and against itself is accelerated to the speed of 315 / 800MHz.