Intel is releasing its fresh processor line, with no less than twenty-nine Processors Both for the desktop processor market and for the mobile market
The chip giant releases a new line of
Processors
Both for the desktop and mobile markets. The new processor line includes
Processors
Desktops from the latest CPU division
"Haswell"
And the previous processor class
"Ivy Bridge"
.
The release of the new desktop processor wave will include, among other things, the high -
i7 4771
In a clock frequency of 3.5 GHz, as well as the middle market segment with no less than four processors
i5
To cover a wide range and two generations of desktop processors
"Ivy Bridge"
and-
"Haswell"
, The price of the four is uniform and stands at 182 dollars.
No fewer than five processors
i3
The mid- and lower-market segment will be released in this round, from a clock frequency of 2.9 GHz to a significant clock frequency of 3.6 GHz, all to the generation of the desktop processor family
"Haswell"
And their price will fluctuate between 122-149 dollars.
The low processor market is refreshed with no fewer than five Pentium processors
G
And a pair of low-power input processors
Celeron
, A generation-based desktop processors
"Ivy Bridge"
.
As we see refreshing Intel The line of its processors with a very wide spectrum of Processors Desktops, whose prices range from 42 dollars to the cheapest processor and up to $ 314 for the cherry on the CPU's desktop,i7.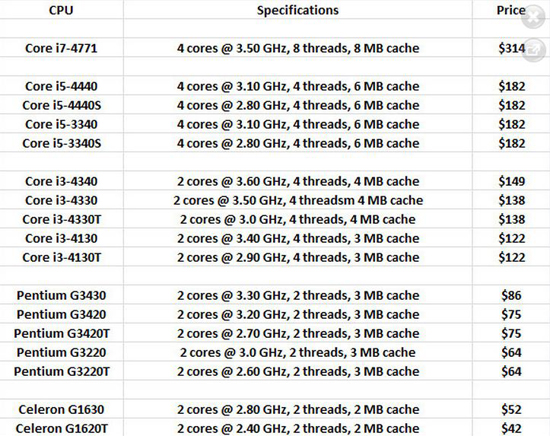 Intel 's new desktop processor series
That's not all, after a long wait Intel Haswell finally released the generation of "Haswell" mobile devices with no less than twelve Processors Fresh. The line of mobile processors will include 4 i7 processors that will appeal to the high market segment and range between 398-657 dollars. The company also releases 5 i5 processors in a price range of between 266-287 dollars and three processors Celeron Cost-efficient electricity whose price ranges from 86-132 to US dollars.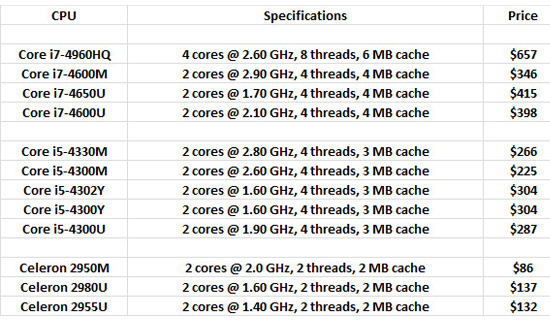 Intel 's new series of processors for the mobile market
So far it's 29 Processors New. So far. Expect to change this number really soon.