Core, these are the processors
Ivy Bridge
, And we report to you from the press conference held by the company in honor of the event
The Ivy Bridge processors are the first home processors
Intel
And all over the world produced in the process of production of 22 nanometers only. In order to achieve such miniaturization,
Intel
Has used its own special 3D transistor, the Tri-Gate transistor.
The processors were developed in cooperation between Israel and the United States, where
Intel
Indicates that the processing cores were developed in Israel and the graphics core in the United States. A real Israeli pride.
Roni Friedman, Corporate Vice President and CEO of Intel Global Processor and Chipset Development, joined the conference call and opened by saying that "The Ivy Bridge is
Intel
Which is manufactured in the manufacture of 22 nanometers.
This is the most advanced production technology today in the world of chip manufacturing. The transition to this new production technology allowed more transistors to be placed on a piece of silicon. Laboratory-
Ivy Bridge
Taking the product
Sandy Bridge
And transfers it to the next production process and even adds additional capabilities to it. "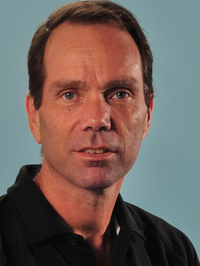 Roni Friedman
The Ivy Bride processor is, in principle, only a miniaturization of the Sandy Bridge processors, however Intel Claims that this is much more of a miniaturizing soup of the production process. According to the "Tick Tock" model of Intel, Each Tick is minimizing existing technology, but this year Intel Claims that it is a Tick +, because the new chips also showed improvements in power consumption, improved graphics performance and new security capabilities.
Mr. Friedman also referred to the UltraBuck computers and said that this computer category is important for
Intel
And that
Intel
Will continue to improve performance and battery life and will add additional advanced options that it has yet to announce. Yet,
Intel
Will not force its business partners to include special options on their computers, and we will also see ultrabooks with touch screens and gyroscope and without.
Ivy Bridge processors are equipped with Intel HD Graphics 4000 graphics accelerators and provide up to twice as much XNUMXD performance as previous generations of processors, as well as support forDirectX 11, Open GL 3.1 and OpenCL 1.1.
Asked to also address Ivy Bridge processors for servers, Mr Friedman replied that "this is not a product that Intel is launching now. In the future there will be an Ivy Bridge processor designed for servers. This product will be based on the same Ivy Bridge manufacturing technology, but will only be launched in the future." Added that
Processors
These will include "more cores and less graphics".
To the question of whether Ivy Bridge Also intended for smartphones Mr. Friedman replied that the processorIvy Bridge Not intended for smartphones. Intel has a different processor for this category. "
Finally, Mr. Friedman noted that work is also continuing on chip production in even smaller manufacturing processes. "It has been said for many years that silicon is running out. I can say that in my group at the development center in Haifa, we are working on processors in other future production technologies."
Systems with the new chips can be obtained from today's manufacturers. The processors are also available for purchase separately.