Computers
Intel Introduces Extreme - Based Sandy Bridge Processors
Intel will launch Extreme processors towards the end of 2011.
As opposed to the recent rumors Intel Intended to refresh the ranks of its Extreme processors by the middle of this year, a new document unveiled by the site
X-bit Labs
Argues that Intel Launch the processors only towards the end of the year and call them
E-series
. Until then plans Intel Remove the juice from the current processor series.
The document in question reveals that Intel will launch theProcessors for extreme and premium platforms In the last quarter of the year and not in the third quarter. Something must have caused Intel to postpone the launch in several months. Perhaps it does not want to introduce a new suket again, given the fact that the new series of processors will only be introduced into a new genre
LGA2011
. Branding quite original on hand Intel.
Processors
Sandy Bridge
Series
E
Will give the performers the best performance seen so far. They will come with memory
cache
Especially great for improving performance on apps that require one or two processing core, visit memory With four channels and other improvements. The processors will come with 4 or 6 cores and will include a new logical command set that carries the code name
Patsburg
. The platform will include external frequency generators, as well as the interfaces of such interfaces
SATA
and-
USB
, In order to enable the Overclocks to speed up the processors more easily and efficiently.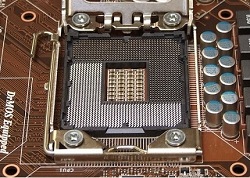 We counted 2011 pins, and you?
Thanks to improvements in the microarchitecture,
Sandy Bridge
The next processors that will be based on it will be super fast. It would be interesting to see if Processors Those with six cores will be able to bypass the octagonal processors
AMD
Which will be launched towards the middle of this year.
Intel did not respond to the news.