Millions of users Internet Explorer will soon encounter a screen that allows you to switch to a competing browser following an EU precedent-setting ruling
Although according to the dry data Microsoft's browser is the browser
The most popular in the world
, It seems that the situation is going to change soon. The revolution in the browser market comes in the wake of the fact that over the years Microsoft has taken advantage of its position as a leader in the operating system market,
browser
God-
Internet Explorer
And install it by default in any system.
Following many complaints from around the world and especially from Europe, the European Union signed an agreement with Microsoft to present a screen of choice to users of its operating systems,
browser
They want to install on their computer.
As you know, she tried
Microsoft Office
Making its browser a monopoly that leaves no room for competition - with the rise and development of different operating systems, and especially with the development of different and equally successful browsers, a competition has been created that competing browser developers claim is unfair, as Microsoft has a clear advantage One of its operating systems is installed.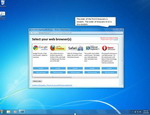 Browser selection screen
The revolution will begin when Microsoft releases a software update to all users of its operating systems in EuropeXP, Vista and-Windows 7) Which will bounce a "balloon" that will allow a choice between the main browsers today: Chrome, Firefox, Opera or Safari. "Users who are in Europe and use the browserInternet Explorer As their main browser, will encounter a window that will give them a choice between continuing to use the browser or downloading browser "Other according to their preference," an official statement from Microsoft said.

Mitchell Baker, founder of Mozilla,
Firefox
), Said in response that "the agreement between the EU and Microsoft is a significant milestone, and it will allow millions of people to control their browsing experience." Remember, Windows 7 was supposed to come with a browser selection screen
To show more during installation,
But in the end it did not happen.
It seems that the complaints have accumulated
Since the launch of the new system
של
Microsoft Office
Have done their job, and the British, Belgian and French residents have reportedly received the software update. The rest of Europe will receive the update in the coming days.