10 million dollars and you can put your hands on the first quantum computer in the world available for purchase
We must admit that we did not think that this moment would come so fast, but the first commercial quantum computer has already been sold.
Meet the D-Wave One, The quantum computer that comes from D-Wave (originality of the name) and offers a processor called Rainier that contains 128 "Qubit" units - a quantum bit unit analogous to the "regular" bit that we are all familiar with.
The quantum processor is seemingly very simple, and is designed to perform one and only one operation - Discrete Optimization, using a technique known as "quantum softening" (Quantum Annealing), Which makes use of the foundations of quantum theory to solve problems very quickly and efficiently.
While all these concepts may sound like a heap of nonsense for many, D-Wave declares That the development of software for their quantum computer is not such a difficult task, and argue that the main difficulty stems from the need to combine knowledge from a variety of fields such as quantum physics and computational learning.
Unsurprisingly, the D-Wave One is not designed (nor capable) of replacing our computers, but rather is a dedicated processor for a specific need that can improve complex computer systems. In addition, the people behind the historical computer say that it has impressive processing capabilities in the field of artificial intelligence - if these are translated according to a random field model Markovi (Markov random field).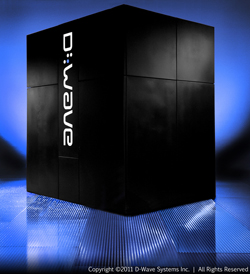 "That's what I want for a birthday!"
A $ 10 million price tag may sound bizarre, but we have to take into account that this is a first-of-its-kind processor that should offer additional capabilities for supercomputers, rather than help you run "Crisis" more smoothly. Therefore, it seems that the question of pricing the D-Wave One will be left to the experts.
Quantum computing has been described as the next big revolution in computers for quite some time due to its reliance on Heisenberg's uncertainty principle, in which Cubit has a probability of being 0 and a probability of being 1 - which opens the door to unique mathematical calculations that make the quantum much better than the classical computer In certain areas.
After we saw Quantum screens Approaching Application Mass Commercial, Does the D-Wave One Signal the Beginning of a Similar Process for Quantum Computers? It's too early to tell, but if D-Wave manages to build quantum computers on a significantly larger scale based on the existing model - the sky seems to be the limit.
updating: If for a moment you thought it was a product that was half a joke and would not receive substantial interest - here is your first customer for D-Wave, in the form of none other than Lockheed Martin, the giant aircraft manufacturer Announced that it had signed a long-term agreement With the quantum computer maker, and will become the first approved purchaser of the quantum computer. Why? Perhaps to develop quantum cryptography that might prevent Such cases in the future.