The Israeli championship at Oberclock will take place in about a week, and after We have shown you the prizes that will be distributed in the competition (And gave you 26 good reasons to get to it), it's time to tell you who can take home a processor Core i7 980X and who will have to "settle" in the processorCore i7-875K having the open hem.
The decision to divide the prize pool among the various groups was not simple (thanks in part to the great variety of prizes), and we tried to reward as much as possible the best overekluckers among you, while maintaining a balance between the players.
The distribution of prizes between the assignees will be as follows:
Performance improvement edge
First Place
second place
drive SSD Of Intel
CoolerMaster V8
Third place
ThermalTake SpinQ
NZXT Sentry 2
Assigns maximum performance - Cooling Air

First Place
second place
drive SSD Of the OCZ
CoolerMaster V8
Third place
CoolerMaster V8
NZXT Sentry LXE
Assigns maximum performance - Cooling extreme
First Place
Intel processor Core i7 875K
OCZ Z 1000W power supply
ThermalTake ProWater
second place
Intel processor Core i5 655K
NZXT Phantom Case
CoolerMaster V8
Third place
NZXT Vulcan Case
CoolerMaster V8
In addition to the prizes that will be awarded to the winners of the various competitions, prizes will also be distributed to the event's guests, and everyone is invited (the entrance, of course, free)!
And now - some logistical updates!
a few days ago We have published the final schedule of the competition In the special forum we opened for the event. Those of you who have not yet seen it are welcome to review it now: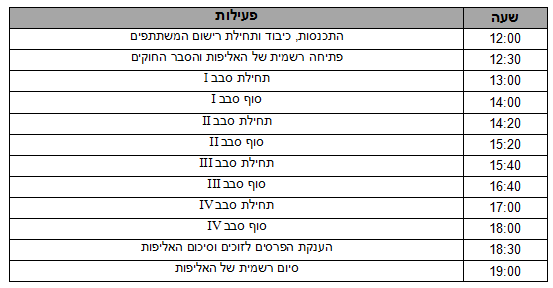 We reiterate that in order to enable the proper conduct of the competition and to meet the timetables, all participants must arrive at 12: For those who are registered in advance in our forum). More details about competition rules, schedule, what should be brought, etc. You will find as stated in our forum. Please note - the published rules and highlights are binding, even if you have not read them


Finally, we ask again that anyone who has registered to participate in our forum will email us, as soon as possible, the following details: full name, mobile phone, the type of cooling he will use in the competition and full system specifications, if any. The details must be sent to the address [email protected].
Waiting to see you at the Israeli Championship at Overclocking, 28 for October, a store area RSM Computer Services In Kfar Sava (Creator Street 3)!