Nissan shakes the world of electric sports cars with the appearance of Esflow
Last year, when Nissan introduced its Leaf, it became the first major automaker to enter the electric vehicle market, which until then had been almost entirely occupied by automakers vehicle As tiny as a company Tesla Motors from Palo Alto, California. Renault-Nissan CEO Carlos Gossen said his company would invest more than $ 2013 billion in electric cars by XNUMX, and that it would not be long before it became the world's largest electric vehicle maker. So, in March, Nissan launched its most direct attack on the company. The little ones - she unveiled a car ספורט tram.
For now, the Nissan Esflow is a concept, but Nissan takes into account mass production, and it is not far from becoming a reality: Esflow is based on them סוללות And motors that drive the Leaf. The rear-drive Esflow carries a case סוללות Lithium-Ion 36 kilowatt hours weighing 442.25 kg, compared to the 24 kilowatt hours found in the Leaf. To partially compensate for this extra weight, the Esflow uses a body made of a feathery carbon compound mounted on an aluminum chassis. Rear cameras Take the place of the side mirrors, and reduce drag.Regular seats sunk into the partition remove the need for seat frames and motors that adjust them.Similarly, the accelerator, brake and gear pedals are electric, eliminating the need for gear levers and pedal fixtures.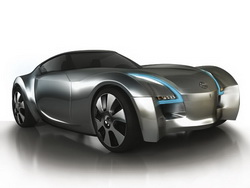 Nissan's Esflow Concept
Bob Yakoshi, Nissan's product safety and environmental manager for North America, says the Esflow is expected to travel up to 241 km for charging (the Leaf reaches about 160 km). With two 107 horsepower engines mounted at the rear, the Esflow goes from 0 to 96.5 km / h in less than five seconds, and to a top speed of about 193 km / h.
The Roadster's Tesla The price of 109,000 has been on the market for three years, but the Esflow illustrates the challenges faced by automakers who want to enter the prestigious electric market. Nissan has the ability to offer a price lower thanTesla, It also has a well-known reputation, agencies and service systems that no start-up company can compete with. Only a few years ago, experts predicted thatTesla Will revolutionize the automotive business. Instead, it seemed to have stirred giants from their sleep.
More about innovations in the June issue of Popular Science - For a special introduction to HWzone.co.il surfers