As every year, around mid-October, Logitech introduced its new product line for the coming year of activity - and at the press conference held in Tel Aviv last week, more than 25 new products were put on the table covering all areas of the company's activities, from gamers to mice And docking stations for media players and phones so popular of Apple.

It turns out that,iPod And its partners have been in the market for several years now, there has been no decrease in the consumption of peripheral accessories offered in the market in favor of the media products Apple. BlogTech also knew about research that they are doing among users iPhone and-iPod Which indicates that no less than 85% of them listen to their device, on many occasions, using external speakers, and the choice is according to three criteria: mobility, the possibility of charging and of course, sound quality. Logitech's new proposal for this field is God-Rechargeable Speaker S715i Class speaker Compact, equipped with a universal adapter, portable bag and remote control, allowing you to hear Music Anywhere, at home or on the road.

According to Assaf Shahar, former sales manager of Logitech Israel and appointed last year as the company's operations manager in developing countries,iPod and the-iPhone There is great importance for Logitech. "Consumption of home music specifically tailored for Apple Is attracting considerable attention and is one of Logitech's most significant growth engines in markets with a well-developed market iPhone and-iPod. In Israel, we expect similar processes, "he said.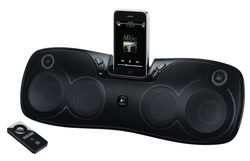 Another study of the company Made in the field of keyboards. According to this study, 69% of users of company keyboards like to do so in the darker hours of the day, when it is necessary to rely on unnatural light to see what is typed. Some of these people, who may not be able for various reasons to illuminate their working environment properly in the late hours of evening and night, may be able to purchase the God-K800 Illuminated, Logitech's new keyboard, which has already offered keyboards with backlit keys. God-K800 Ensures a smart backlight that is designed to adjust to the intensity of the surrounding lighting. The special lighting of the keyboard can be turned on and off using a special motion sensor, with the goal, of course, to conserve battery life.

In its purposeful display, Logitech also presented a wide range of speakers for use with computers Mobile Mostly, includes some products that support wireless streaming, and a series of cameras אינטרנט Quality cameras HD And headphones that neutralize noises.
One of the areas that received relatively much attention this year was the connection between technology and fashion. For example, the company has launched a series of mice in different colors that includes almost all colors of the rainbow: from pink brush to green, red and metallic purple - imagine the following statement: a pink netbook with a blue mouse.