Logitech's new K800 keyboard is equipped with motion sensors that activate the backlight when the hands come closer
Logitech introduces a new keyboard with its own "nightlife" - the K800 keyboard that illuminates your face day and night. The keyboard combines pleasant lighting and is adapted to the atmosphere around it by means of light sensors that make sure that the lighting is suitable for the given situation, and at the same time preserves the power consumption and battery life.
The stylish design of the keyboard is a prominent feature in addition to its functionality and maximum comfort. The keyboard incorporates all of Logitech 's innovative technologies, including intelligent backlighting, which is turned on and off with a motion sensor.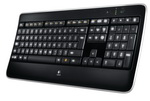 Motion sensors activate the lighting
When the hand approaches the lighting keyboard, it turns on and automatically adjusts the light intensity to the environment. When you move away from the keyboard, the lights turn off in order to maintain maximum battery life, which allows for wireless use (in the 2.4GHz frequency) to 10 days between charging and charging. Charging can also be done while using the keyboard using a mini cable USB.
Alongside the technology, the design and convenience have been emphasized, among other things by Logitech's padded keyboard combination, which adapts to the touch of the fingertips, yet is particularly durable. In addition, the keyboard keys are extremely quiet and barely make sound when you tap.
The keyboard is expected to be available in stores in Israel after the holidays, at a recommended consumer price of about NIS 500.