According to various reports,

Courier

Has dual screen of Microsoft Office, Was finally canceled. In addition, the PC

Slate

Expected of

HP

Will not get to the market
In recent months they have been published throughout the chain
reports
According to which Microsoft is developing an innovative tablet computer, to be called "
Courier
According to the prototype model developed by Microsoft, it appeared to be a tablet computer with two advanced touch screens, which
Combines in a revolutionary way
Between touch recognition technology and writing recognition by electronic pen. God-
Courier
Microsoft was supposed to make a big splash in the tablet market - but unfortunately, according to
Various reports
, It seems that the company has decided to stop its development process, and shelve the project. In addition, according to
More publications
, The computer maker
HP
Which developed the
The computerS

late
Also decided to cancel the project and not market the tablet - which in fact should have been a much better and more functional alternative to a computer
God-

iPad

של
Apple.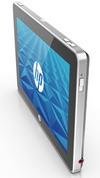 The Slate - finally canceled?
"The project
Courier
Is an example of how developers at Microsoft do not stop trying to innovate and invent new technologies. The company never had plans to produce the
Courier
"In a mass way, but the technology on which it is based will certainly be reflected in future products."
He announced
Senior Vice President of the Company, Frank Shaw
Microsoft Office
Definitely does not intend to give up the opportunity to break into the Tablet PC market, and it is possible that in the near future we will hear about the company's next project in the field.
in parallel,
HP
It has also recently given up on the development of the
Slate
Its - when according to reports in the company were not satisfied with the high power consumption of the tablet (which is based on a processor
Intel
), As well as from the operating system
Windows 7
, Which used too many resources. It is important to note that
HP
Aurora acquired Recently the company
Palm
, and she
Is expected to take over
About its operating system called "
WebOS
", Apparently in order to use it as a queue
Operating System
For tablet computers that it will open in the future.
It seems that even if both companies (
HP
And Microsoft) have already given up on their expected tablets, they are likely to be a big surprise in the future. However, it should be remembered that as long as there are no competitors in the market for the device
iPad
של
Apple
Steve Jobs has a good reason to smile.