Chipset toAMD - Continued
DFI's LanParty NF730 board is also based on the NVIDIA chipset designed for the low / mid range of users. The interesting detail in this table is the arrangement of the non-standard components, which we have not seen in a long time.
GIGABYTE also provided a high-end tablet called GA-M780SLI-DS5, which should be the high-end solution for AMD processors, but it can be seen that the investment is not as high as the DQ6. Apparently, the level of interest in it will depend mainly on its price relative to its competitors and its overclocking capabilities.
From ASUS, we got the Crosshair II Formula that uses the 780a chipset. The launch of this model proves that ASUS is re-partnering with AMD, launching a suitable ROG board for this platform. This is the company's most powerful tablet for Phenom processors, and it is similar in its features to the parallel panels designed for Intel processors.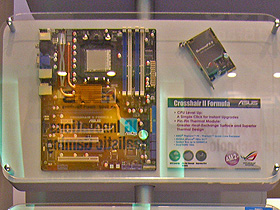 The CeBIT exhibition this year provided us with a rare look at the new motherboard products that will accompany us in the coming year. We gladly welcomed the fact that other companies are entering the stubborn struggle in the high market, whether they are old and big manufacturers such as Foxconn, or news in the field that is trying to scrape off a little market share like ASRock. The most impressive boards we saw at the event were those presented by Foxconn, which shares the top spot with the ROG boards ASUS. On the other hand, it is a notebook GIGABYTE We expected to see refreshing innovations, not the same worn brands that need to be refreshed as soon as possible.
It seems that the average consumer will see healthy competition this year as well, mainly due to the significant footing of smaller companies such as ABIT, DFI,ASRock Which prove time and time again that they are still relevant to the consumer.