Leadtek is expanding its GeForce 4Ti offering with VIVO (Video In / Put Video Out / Put) versions.
Apart from the 'usual uniqueness' of Leadtek cards in an impressive set of features (perfect cooling for the entire card, one of the best picture quality available and an impressive bundle set),
Video / In inputs have been added to the list, allowing you to connect any analog capture component to your computer, thus expanding the various uses of the card.
From transferring home movies from your personal camera to operating a security camera.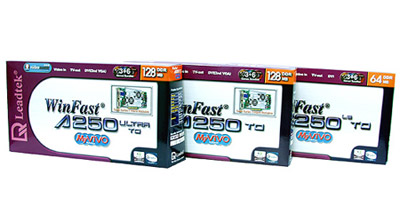 Leadtek GeForce4 Ti series (MyVIVO)

Product Name

A250 ULTRA TD MyVIVO 128MB

A250 TD MyVIVO 128MB

A250 LE TD MyVIVO 64MB

Core

GeForce4 Ti4600

GeForce4 Ti4400

GeForce4 Ti4200

Memroy

Core Clock

300 MHz

275 MHz

250 MHz

Memory Clock

650 MHz (DDR)

550 MHz (DDR)

500 MHz (DDR)

Out Put

TV-OUT, VIDEO IN, DVI, DVI TO VGA ³

Bundle S / W

MGI VIDEO WAVE 5.0
Master Rallye (Full version)
Aquanox (Full version)
Black Thorn (Full Version)
Other 6 Demo version Game