Microsoft is introducing Gmail Man - "Google Mail" that will try to convince you why Office 365 is preferred
At the end of June Microsoft launched the Office 365 (Office 365) with a loud shout - a package of services based cloud Designed for the enterprise market and offers access to a variety of popular software such as Outlook, Office And more, they're all accessible through cloud services and pay months starting at $ 6 per month.
One of the services that Microsoft included is a 25GB mailbox, and on the (immediate) question "Why is it good to have Gmail?" The company responded with a breakdown of the advantages of their box over the competing service from home Google - When the most prominent section of all stated "In Office 365 there are no advertisements, we do not scan the information in your mailbox, unlike free services".
Google She admitted It has long been that it scans the information in Gmail accounts (completely automatically, without the intervention of a human factor, she says) in order to create "better" advertisements that are customized for each user.
Now it seems that Microsoft wants to demonstrate to us the "method" of Google, And the way to prove to us why we should switch sides and switch to Office 365.
How do you do this? With video Video Kind and entertaining, of course!
A video that came online Displays gmail Man - The lovable postman who reads your letters and knows all your embarrassing secrets, and does not even think there is any problem in the whole story, when all the events are presented as "the opposite experience from what you will get in Office 365".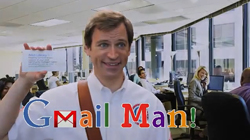 A new Video War?
It is estimated that the video was presented toMicrosoft Global Exchange that started in 20 in July, and from there found its way to the network (and it is not really clear whether Microsoft would have liked it to happen or not).
Questions about the video addressed to Microsoft were met with "no response" and a sealed face, but the style of the video, including the name of the fictitious company in the video, Contoso Ltd., which appears in a variety of videos from Microsoft Office - Do not leave too much space to provide.
On the face of it, this is a humorous but rather blunt video, which presents the Google And its Gmail service in a very negative light (justified or not - judge for yourself), and we are definitely looking forward to see what the reaction of Google Regarding.
Until that happens, a nice view:
updating: With or without connection to the emerging war between it and Microsoft (and the video above), too Google Offers a new and graceful campaign designed to help you persuade even the most stubborn of your friends to switch to the company's Gmail service.