HWzone Overclocking Guide - Part II.
Video card - Overclocking in the palm of your hand!
First we thank Ofer fromIspectrum , Again about bringing the card on which we conducted the murderous Overekluk I came to.
Want to try an effective, easy, and almost risk-free overclocking? Want an accessible and simple overclock that can be done right now? There is nothing like a simple overclock to the video card for this…
בThe first part of the Overclocking Guide We discussed general overclocking options about the risks involved, and little on results. In this part of the guide we will expand on Overclocking graphic cards, An area that is gaining momentum mainly because of the visible performance enhancement in almost any card, whether it's a simple GeForce 2 MX or whether it's GeForce 3 Ti200…
And because of the easier and safer option for effective and correct overclocking.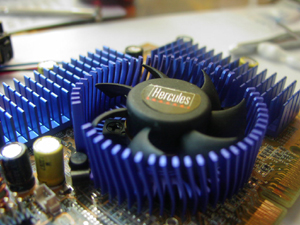 Before we go to work and prepare for this type of overclocking, we'll look at our card.
It is important to know that card speed consists of two factors, the graphics core speed and the physical memory speed on the card, whether it is SDRAM memory or memory DDR Faster… It is important that we know the base speed at which the card works of the two factors we mentioned.
This data can be found on the card manufacturer's website or by a small question in our forums, and it is very important to know them for further work.
After checking this data we went to see who created the card, because one of the differences between the different manufacturers that produce similar cards is in the overclocking capabilities of their card, meaning POWERCOLOR will almost always reach lower overclocking speeds than ASUS or HERCULES, no matter if the core is similar.
Take for example the GeForce 2 Titanium card from INNO3D and one from HERCULES, for example, there is a considerable difference in the type of memories, when Memories The faster 4Ns which are equipped with Hercules give it a significant advantage.
It is worth looking at Memories Card and check the data access times of the memories which are marked with xx ns when the lower the number so the memory can usually reach higher working speeds, i.e. GeForce 2 GTS cards which are equipped with 7ns memories will reach a lower working speed in overclocking than memory With a mark 6ns, and it is important to know this to know the limits of the ability of memories.
If we try to arrange the same data neatly it will look something like this:
The memory speed in ns

Speed ​​at DDR

average speed
Overclock - DDR

Speed ​​in SDR

average speed
Overclock - SDR

7.5ns

250Mhz

300Mhz

125Mhz

150Mhz

7ns

275Mhz

333Mhz

137Mhz

165Mhz

6.5ns

300Mhz

350Mhz

150Mhz

180Mhz

6ns

333Mhz

380Mhz

166Mhz

200Mhz

5ns

400Mhz

500Mhz

-

-

4ns

500Mhz

550Mhz

-

-

3.6ns

550Mhz

633Mhz

-

-
You have to know that there are exceptions, of course, and it is all related to the quality of the memory itself, and its durability under high temperatures. We note that, of course, SDRAM memories are significantly inferior to those of the SDRAM,DDR Which are twice as fast, and are almost exclusively used today for maximum performance and high working speeds.