Computers
Prepare popcorn - Recommended specification for home theater PC
In recent weeks we have recommended you for specifications
A basic home computer
And on
Budget gaming specification
. This week, we will recommend you to an excellent Media Center specification.
Get updates from us all at TelgramJoin the channel now
The recommended specification system Our products are updated frequently and include excellent 42 specifications, divided into five different categories. This time, as part of a month October, We will present to you a specification from "Media Center" category The average cost is NIS 2150.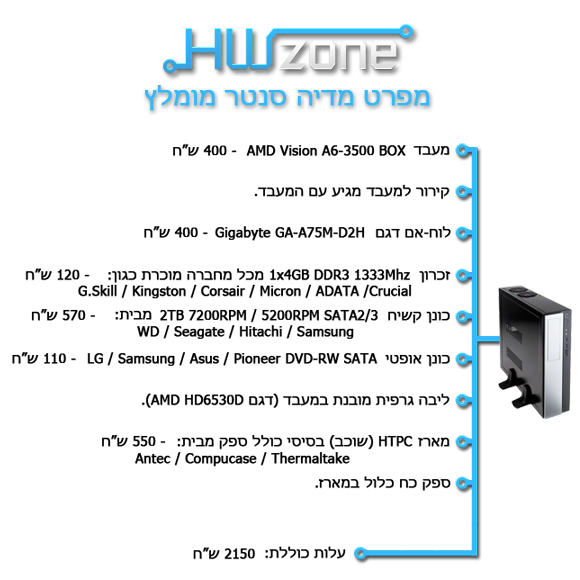 The processor we have included here is a triple-core processor with enhanced graphics core so that beyond the smooth running of high-definition content, this computer also has the ability to run modern games well on low graphics settings. As far as the motherboard was concerned, it was hard for us to find a board that was common in the chain stores
Processors
This, but we found one such that it is not cheap, but includes connections
USB3
and-
SATA3
, Ports
Video
Variety-
VGA / DVI / HDMI
, Optical port and more.
We also included in this specification 4 gigabyte RAM memory, hard drive (2 Gb), a standard burner and a sleeping enclosure with a vendor of one of the companies you choose. Usually it's about Enclosures Quiet and high-quality, if you want to go on a standing case - save a few hundred shekels.
Do not eat movies
A Media Center computer is a very general thing and the following is one of many possibilities. Some Media Center computers are capable of running high-definition content (but not in all formats), and there are computers with massive storage capacity when they can also run games. The specification we chose to present to you today is a combination of the two - it supports most formats and technologies (including 3D) and can run modern games on low graphic settings on your TV.
In this specification, we chose a triple-Core Series Vision של AMD. We chose this processor rather than a dual-Core Cheaper than the same series, because the addition of several tens of shekels included here Core Added together with Core Graphically reinforced, all under the same brown envelope.
You can of course go for the alternative from home IntelSeries processor Pentium G, But the built-in graphic core does not support all encodings, so if necessary you need to add a separate graphics card at an average cost of NIS 200 (like HD6450). Overall this is an excellent Media Center computer, where as mentioned earlier, the price is average with upward lift. There are stores where similar specifications will cost tens, if not hundreds of shekels less.
We remind you that Forum Computer specifications וconsumption You are always at your disposal, and will help you with any question or request.