Good news for those who expect the arrival of the new generation of processors - according to a recent report, the pleasure may cost you a few less pennies
Just as we were convinced that there was nothing left to surprise us For the upcoming Ivy Bridge processors From home Intel, A new report claims that the company has decided to cut prices slightly for some of the models, to the delight of those who plan to part with the money profited sweat for the next big thing from the Santa Clara chip maker.
As part of the current reduction, Core i7 3770K processor The quadrilateral cores and the open product that is intended to be the successor to the Core i7 2600KCore i7-2700K, Should carry a price of $ 313 (as with most price lists of this type, this is a price for distributors and resellers conditional on the purchase of at least 1,000 units), which is $ 19 less than The first declared price displayed for it, And seven dollars less than the latest price reported for him so far.
Similarly, the Core i5 3570K quad core processor (also has an open product), which will replace the Core i5 2500K processor as the default for any performance enthusiast who prefers Intel products over those of the big rival AMD, Will bear a price tag of 212 USD, compared to the price of 225 dollars at the beginning of the price and price of 220 dollars, which is considered the final price so far.
A number of other models are expected to win similar price declines, none of which exceed $ 8.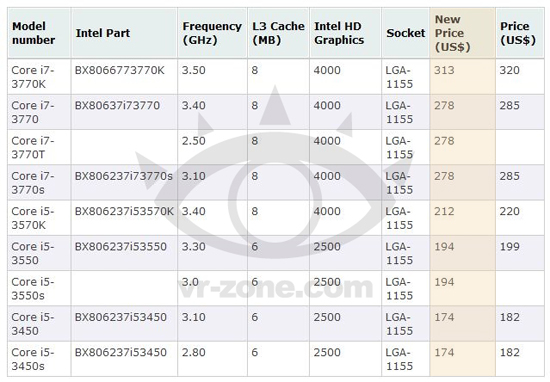 Intel is making sure to leave you a cup of coffee
These are not assumptions that will suddenly make you rich,Ivy Bridge Slightly cheaper than their counterparts in theSandy Bridge Current - which may give mostly a good feeling to buyers, and maybe even convince some more that this is the right time to upgrade their system.
It is worth noting that there is no official verification of the prices in the current report, just like the prices that were known so far. We will probably only know the final and real price when the Ivy Bridge processors are launched - which according to me Another fresh report Will happen on 23 in April, not on 29 in April as claimed until recently.
Are there other last-minute surprises brewing at Chipzilla's? In a few days we will know, or not.