) Warned of the danger of the proliferation of smartphones, and they did Are multiplying at a frightening rate. Dr. Hamadon Tor argues that cellular operators will not soon be able to support all customers and the huge demand for smartphones and tablets for various Internet traffic. Network The whole Internet, if nothing is done about it.
"Cellular operators have invested billions to upgrade and improve their bandwidth and network performance, but in cities with large user bases such as San Francisco, New York and London we still see frustrated users from
The chronic problems with network availability
, "Said Dr. Tor. "Large-scale plans to increase global bandwidth include the dispersion of load centers and the acceleration of fiber-optic paving, in order to support the growing number of
Apps
That consume a lot of traffic. "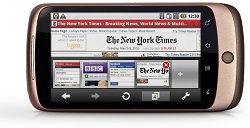 They will bring us the Apocalypse
The doctor further mentioned that the US and Europe are willing to give up from other countries and called on the rest of the world to follow in their footsteps and increase the use of fiber optics.