A Georgian old woman was looking for pieces of copper - and cut off the Internet in Armenia and Georgia for half a day
If Granny had a shovel: the next time your web slows to a crawl, remember that it can always be Even worse. An elderly 75-year-old Georgian was looking for copper waste that could be sold, and found the optical cable that is responsible for about 90 percent of Internet connections in Armenia, and a significant portion of Internet connections in Georgia. The old woman thought the cable contained copper and did the required thing, cut the cable quickly - and disconnected all those users from the Internet for a good few hours.
As a result of the same unintentional sabotage of the elderly activist, the Internet of most Armenians was cut off for about 12 hours, while the injured Georgians had to endure 5 hours "without a network."
This unusual event took place in 28 in March near a village called Ksani, which is north of the capital of Georgia, Tbilisi, and while this side looks like another esoteric and entertaining story running on the net, the whole thing may be less amusing for the old woman, And may be sentenced to imprisonment for up to 3 years if convicted. The Georgian authorities considered the woman's advanced age slightly, and released her to house arrest until the conclusion of the investigation.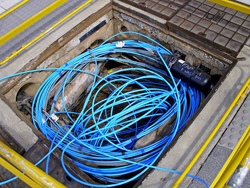 Life lesson: An optical cable is not a game
This is not the first time that Georgians have had to deal with such a "crisis" in their Internet infrastructure. In 2009 a similar case of "junk hunters" hitting an optical cable led to the disconnection of the internet connection to many citizens in the country.
Her company owns the optical cable in question, Georgian Railway Telecom (which is part of the Georgian Railway Company), was surprised that the unlucky pensioner managed to damage the cable. "I do not understand how it was able to find and damage the optical cable, the cable has significant protection and such cases are very rare," said Giorgi Ionatamishvili, head of the company's marketing department.
We hope that the Georgians will not get worse with the elderly, and we will conclude that dealing with optical cables can be neither simple nor really dangerous - especially if it is a matter of disconnecting the Internet from an entire country.