The most powerful smartphone in the area became monstrous in the hands of a diligent Oberclucker
The fast-paced trend of smartphones, Tablets And every mobile device as it continues to gain momentum, and now it's the turn of the Galaxy S 2, Samsung's superphone that hit the market only in a limited number of countries and has already won many titles such as "best Android device" and even "best smartphone", and also shatter Records with 3 million pre-orders worldwide.
We will refresh your memory and tell you that the Galaxy S 2 is equipped with a system Chip called Exynos 4210 from Samsung itself, And started out with two Cortex A9 cores at relatively modest speeds of 1GHz. A few months after its exposure, we received confirmation that it was in Samsung Decided to increase the processing core frequencies to 1.2GHz, Which made the device the most powerful market, as of this writing.
Now comes a user who answers the name coolboo3000 From the famous forum xda-developers.com, And displays a device Galaxy S 2 which successfully reached a frequency of 1.504GHz - an almost imaginary figure that is starting to resemble netbooks and HTPCs, and not Unlocked.
The lucky guy offers a detailed explanation of how to try to recover the results, and that he managed to bring the device to speeds of 1.8GHz and even 2GHz (!), Although in these situations the device was unstable. We do not know about you, but 1.5GHz certainly sounds impressive enough for us.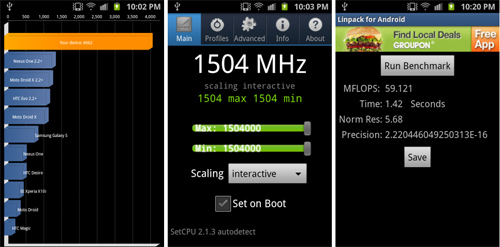 The user also made some performance tests on theGalaxy The fast-paced S 2, which achieved impressive results of 4062 points in the Quadrant and 59.1 MFLOPS (Mega Floating Point Operations Per Second) in Linpack - enough to leave mostly dust for most competitors, although these tests do not seem to take advantage of the multiplicity The cores of theGalaxy S 2 optimally, and the "real" differences between this hurried monster and the other devices are even greater.
The speed reached by the Galaxy S 2 and its Exynos 4210 chip not only places it above any known device expected to hit the market in the near future, but also compares the performance that future home products promise Texas Instruments ,Freescale And others - and the whole situation proves, in fact, that the limitation of the speeds and frequencies of the current chips is mainly due to considerations of energy saving, and not precisely because of material or physical limitations.
You can continue to try and analyze the results reached by coolbho3000, but we will sum up and say 'well done' to Samsung once again, which created a great device and system on chip Especially impressive. Anyone who wants to see more is invited to watch a 6 video of the minutes in which the haste is displayed and the results it produces: