Although we are a few months away from launch, future processor performance of Intel Look around the web
On the hardware site
Tomshardware
, A hardware site where we ourselves read a lot of news, conducted a quick review of an early version of the processors -
Haswell
From home
Intel
. The coverage included both the general processing core and the core of the processor's built-in graphics and is expected to yield the greatest improvement in performance against the next generation,
Sandy Bridge
and the-
Ivy Bridge
.
The first synthetic tests performed on the processor prove previous rumors. When they
Core i7-4770K
, Are the
Core i7-3770K
And the
Core i7-2700K
Tuned to a frequency of
3.5
GHz (on the count to check for improved architecture efficiency), the difference between the processors is not at all significant and stands at 13 percent in the extreme case.
The great surprise in the processors comes, as expected, in the form of a significantly improved graphics core. It 's still not something that
AMD
What to fear, but it shows the feverish pace in it
Intel
Pastes gaps. On desktop computers, the ones they bought for themselves
Core i7-4770K
Such as the one in
tomshardware
Will probably buy a video card that costs a few hundred shekels more, so they will not feel any improvement.
On the other hand,
Haswell
He was never really meant for the tables. The very fact that the processors will contain the core of the
GT3
More powerful than the core of the
GT2
Will only be available in the cradle
BGA
(That is, the pins in the processor and not on the motherboard as we used to sit
LGA
) And Shah-
Core i7 4770K
Comes with heat emission casing
84
Watts only show that the true purpose of the E-
Haswell
Is actually the mobile computing it is fighting for
Intel
In recent years. The very fact that you will not have to
Core
A separate graphic will be an advantage in both performance and battery life.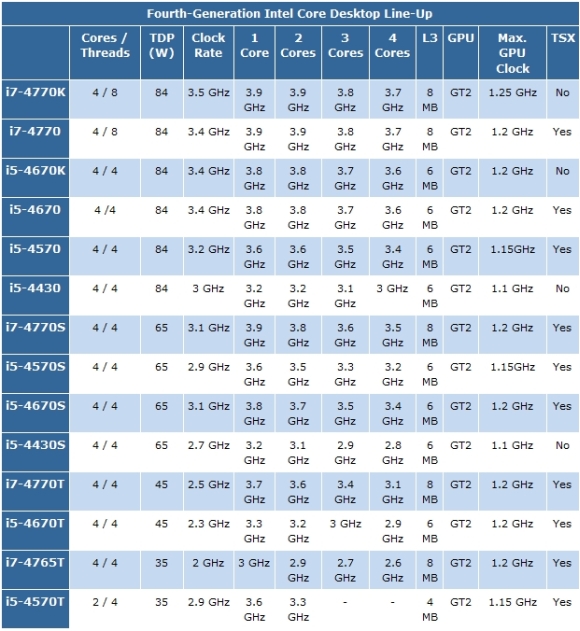 Unfortunately, the
Haswell
Apparently will not bring a big line to the tables and those who bought processors
Ivy Bridge
and even
Sandy Bridge
You do not have to feel like it's time to upgrade or as if your computer system is out of date. The performance they are able to give will be ample for now, let alone if you purchased a sample processor
Core i5-2500K
Or higher capable of switching
Overclock
.