LG launches the first 3D (without glasses) screen to monitor user eye movement

3D Continues to be one Gimmicks Popular And the most profitable in the environment (James Cameron Probably still busy counting his piles of money), which brings, quite naturally, to frequent innovations and refinements that pretend to make the experience more advanced, or at least to be a good marketing material for the company that uses them.
This time it is LG that shows us the The latest scream in the field - The DX2000 screen that uses Parallax Barrier technology to create a XNUMXD image without the need for glasses, in addition to the ability to track the viewer's eye movement, for the first time on a computer screen, which together promise to "expand the horizon to products 3D Without glasses. "
3D products that do not require glasses create, in normal mode, the desired effect only at limited viewing angles, which requires the viewer to be in a precise location and constant in order to get the best effect. Eye tracking technology, applied by a sensor camera Which is located at the front of the screen, should allow the viewer greater freedom of movement, tilting the image according to the location of the eye at any given time.
| | | |
| --- | --- | --- |
| | | |
| | Growing up, the girl from "The Ring". | |
The DX2000 screen offers a 20-inch panel, with LED backlighting, an average response time of about 5 milliseconds, a contrast ratio of 1: 1000, a maximum resolution of 1600 × 900 and DVI andHDMI.
The screen also supports converting two-dimensional content to XNUMXD at the touch of a button, and is expected to land in South Korean markets later this month, and in other markets around the world by the end of the year.
Unsurprisingly, new technologies cost a lot (very much) - the expected price of the screen in South Korea will be 1.29 million won, which is about $ 1,210. Ouch!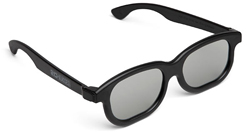 A must-have product for any technophobe
If you belong to the camp of those who support the XNUMXD trend, those who are tired of having a significant headache every time they are required to watch a XNUMXD movie in the cinema - the following product may well interest you…Two - dimensional glasses! which Special Deals The opposite action, and turn the three-dimensional picture projected on the screen into a good old two-dimensional film. A new trend that will sweep the country?