Thermaltake - does not renew, but upgrades
The veteran manufacturer has earned its reputation over the years mainly due to its excellent air-cooling and packaging products. The tour at the CeBIT booth at the CeBIT show this year proved that even though the manufacturer does not break into new markets, it is definitely new in the field of cooling, packaging and even power supplies (an area where it has been working for several years but has not yet gained a positive reputation). We spent a lot of time there, even though we wanted to see only the new and interesting products. The courteous marketing man accepted our request, but it was clear that although he was trying to filter out a main ingredient - about half of the big and overburdened house was devoted to the new products.
The Big Typhoon heatsink has gained a lot of popularity in recent years, but due to the launch of even larger and more powerful products, it has become an outdated obsolete product in the past year. In response, the company launched the molded V1 heatsink, whose performance placed it in a respectable place up the Hall of Fame heater. Already at this year's show, the manufacturer has chosen to launch a similar and more powerful product, the V14 Pro. The new heat sink is equipped with a 140 mm fan, six heat pipes and 98 copper fins. Due to the almost identical design, the V14 suffers from the same weakness as its predecessor - the built-in fan. Without modding skills and a desire to lose warranty on the heat sink, it can not be replaced The proprietary fan for another fan. This is twice as difficult in the new version as 14 cm is not a standard size for the fan.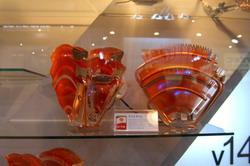 The Orb family also enjoys a new and exciting product, which will be of great use to the community of moderators. These are 140 fins that surround the fan, with LEDs recording information about temperature and rotation speed at the center. The product comes in different colors, according to customer preference.
The engine was implemented by the manufacturer in chassis fans as well. These fans are programmable and you can change the printed message on their backs. The kindly marketing man agreed to give us a personal dedication, we'll see if you recognize him:
Another product from the family is the DuOrb, which is an efficient solution for cooling the processor / video card and their environment. The product is very efficient at heat dissipation from the voltage stabilizers near the processor, or in the heat dissipation of the VRAM memories on the graphics card. There is also an improved version of the MaxOrb, but this product was not so impressed because the change looks quite small.