After Sony reaches the mast of Nintendo Wii, Bethesda , Epic Games, Codemasters and others "win" a visit from hackers
For those who have not been on Earth in the last month (or just not really interested) here is a summary of the previous episodes: At the end of April, a hack into Sony's online gaming service - the PSN network, and the cloud music service Qriocity brought Disable it Of services for the period of Close to a month And to expose The personal details of tens of millions of users, Which caused Sonny both substantial image damage and considerable financial damage.
That hack, it seems, exposed the gaming world (and not only) in its nakedness, demonstrating the helplessness of certain companies in keeping their customers' sensitive information - which in turn led to a widespread wave of hacking for various gaming companies, which continues these days.
LulzSec (which is actually a shortcut to Lulz Security, whose name does indeed make fun of the defenses of too many recently-named companies) is responsible for a large part of the current break-ins. It has vulnerabilities and intrusions to the Bethesda databases, Sony's music and movie divisions , The popular game magazine The Escapist, game servers of Nintendo Wii, The mass game servers EVE Online, the independent hit servers Minecraft and more, a large part of them in one "operation" called TitanicTakeoverTuesday.
In some cases, the attacks were expressed in game servers that fell due to DDoS (Distributed Denial of Service) attacks, and in other cases they were user details that were exposed and copied - while team members make sure to post updates and bragging about their "achievements" through Twitter account, Next to "proofs" that appear On their official site.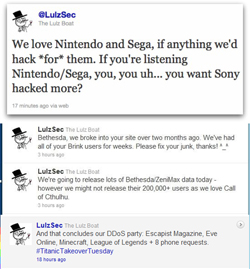 A small portion of the "pearls" in LulzSec's Twitter account
To the companies that tasted LulzSec's arm Joining Also popular gaming companies Codmasters andepic Games Who reported hacks that revealed personal information of their users - such as full names, addresses, email addresses and passwords. In all these cases, the credit details of the users have not been revealed, it seems, but it is not clear whether this is something that should comfort all those consumers who should now be concerned about the security of their email box and passwords.
Most of all, it seems that the current wave of burglaries (together with the breakthrough Network The PSN, of course) is a living demonstration of the relative ease with which we can reveal the personal details of each and every one of us. If this is not a call for urgent and fundamental change, we do not know what is.
Various parties have invested a great deal of effort in recent years in trying to prove to all of us that the use of "sensitive" personal information on the Internet is safe and secure. It now appears that this wave of attacks will force them to put in even more effort to win back consumer confidence.