CES 2013: The group responsible for the development of the USB standard promises to fight back toThunderbolt של Dark And Intel with a transfer speed of up to 10 GB per second - next year
Not only tablet manufacturers and ultrabuckers came to CES to show off their products. The USB-IF forum and the USB 3.0 Promoter Group (whose job it is to develop and push forward the connection we all know very well) came to the exhibition, Happy news - God-USB 3.0 will have an updated specification that doubles its speed from next year.
The upgraded specification of theUSB 3.0 will include enhanced data encoding, which will allow the connection to transfer data at up to 10 Giga Bits per second (about 1.25 gigabytes per second, compared to 5 Gigabit and 625 / s per second in the current specification) and more efficient power consumption, Physical compatibility forUSB 3.0 andUSB 2.0 files.
For the avoidance of doubt, we will explain that current products will not support double speed - devices will need new hardware to work at updated specifications, but backward support will allow them to adapt to previous versions of the standard as well.USB. And what about the data transmission cables themselves? B-USB- It is not possible to guarantee maximum speeds of 10 Gigabit per second on cables that will not be verified as such in advance, but there is a reasonable chance that current standard cables will be able to do so.

Will the technological competition intensify next year?
However, this is positive news for anyone who has trouble describing his digital life without a bunch of USB slots. This extra speed will allow faster data transfer than ever before and reduce the advantage of The Thunderbolt connection The competing "locked" (which currently offers transfer rates of up to 10 gigabits per second in each direction). But even here not everything is rosy - the updated specifications of the USB 3.0 should be ready by mid-2013, but the first devices to be based on it will probably only appear somewhere in 2014, when by then we may see in the market the Fix Next Generation SATA Express And perhaps also Upgraded version of Thunderbolt Which will offer twice as much speed.
Increasing speed is not the only trick in the USB-IF arsenal designed to keep the USB 3.0 relevant. We told you last year On a future standard for connection called USB-PD (USB Power Delivery) that will allow it to transmit power up to 100 watts, and at CES 2013 we also get an impressive illustration of this concept with an array of computer screen and laptop (without battery) which Connected together with a single USB cable - when the screen feeds the mobile with a power of not less than 65 watts, while the mobile streams Video Back to computer screen.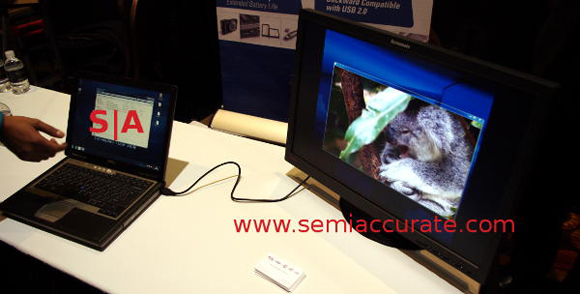 The demo system at the booth of theUSB-IF
Source: semiaccurate.com
This is, of course, just one example of the enormous usability of such a standard, which will save us a few extra wires around the house and can transform the "USB The connection is even more popular and popular than it is today.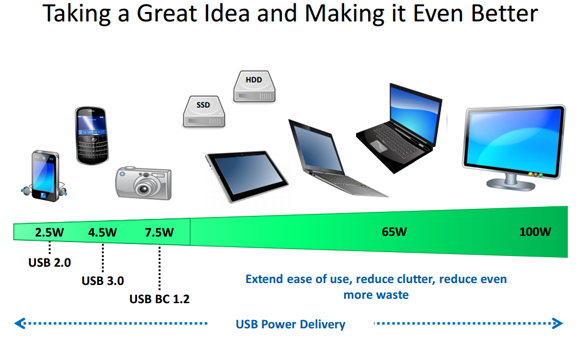 Best of all worlds
The StandardUSBThe PD will be commercialized this year, and we have no choice but to congratulate it and hope that both it and the P-USB The dual-speed 3.0 will be adopted by the manufacturers as quickly as possible.