The IDF Conference Intel Provides us with new information about the next generation of processors Intel, And even a live demonstration of the future built-in graphics core capabilities
As promised, The fourth generation of Core processors at home Intel Is at the center of theIntel Developers Forum in San Francisco, trying to prove to us that there is good reason to hope that, contrary to the grim predictions of the Maya, our world will continue to exist next year.
Dedi Perlmutter (who is one of us), the general manager of the Intel Group of Architects, shared with the conference attendees quite a bit new information about the generation of CPUs,Haswell Which is scheduled to land next year.
We already know about The expected cut In the thermal envelope of ultra low voltage processors, but other important features that the Haswell generation is expected to offer are the power consumption at idle (20) lower than that of the Sandy Bridge processors, increased buffer buffers, improved cached buffer widths, support In new and upgraded sets of commands And, of course, much more advanced built-in graphical cores that will support DirectX 11.1 and can deliver up to 2 performance than those of cores The current Ivy Bridge generation.
Source: anandtech.com
The nature of this comparison of powers is not entirely clear (is this the most powerful core of? Haswell Against the most basic core of the Ivy Bridge?), But Intel demonstrated the situation by demonstrating the Unigine Heaven performance test, in which the graphics core of the G-Haswell Has shown considerable preference over the core of the G-Ivy Bridge.
An improvement in graphics performance is very important and can help the chip giant finally become a real competition for APU processors AMD, But no less important is the fact that the graphics cores in the Haswell generation will be able to offer performance at the level of the Ivy Bridge cores while consuming about half the power - a characteristic that is critical for the generation Processors One of whose main aims is to offer minimal thermal envelopes.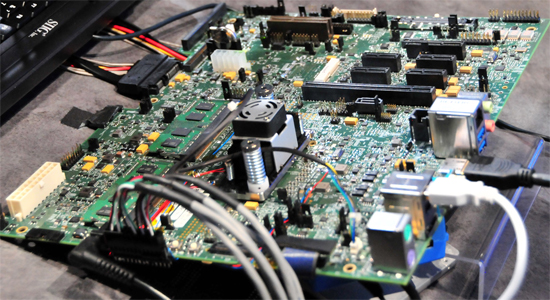 Haswell Processor Demonstration System
Watch - Ivy Bridge head to head in front Haswell, From the site hothardware.com:
We expect more than a few disclosures and reports on the subject in the coming months, but it seems that it is already possible to declare cautiously that cost savings and cuts in power consumption will be the basis and core of the Haswell generation. Taking into account the control of its CPUs Intel In the performance market right now - one can also understand why this is the direction Chipzilla chose.

For dessert, the documentation of Skyrim runs on top of the graphics core of the processor Haswell, Vs Core Ivy Bridge Processor Graphics: