Next month AMD will release a new version to its device driver that will use the processor technology that is currently dormant in the cards HD4000 series.
ATI cards have a collection of hardware and software technologies that allow the graphics core to work with the host processor in software beyond graphics only, so that games and software can take advantage of the card's computing power, but they need to be written in a way that makes it possible to take advantage of card processors. AMD claims that developers such as ArcSoft and CyberLink are very close to releasing updates that will enable existing software to take advantage of the card flow processors.
ArcSoft's TotalMedia Theater will use the card processors to enable new features such as SIMHD, which enables the processing of medium-quality video closer to high-definition video (HD). CyberLink plans to release an update to the PowerDirector 7 video editing software in the first quarter of 2009, an update that will allow card processors to accelerate video conversion.
Meanwhile, AMD will release its own free version of the AVIVO video converter, which will generally use the card processors for movie conversions. AMD claims that with an 4870 memory card with an 512 megabyte of memory combined with an Intel Core 2 Extreme QX9650 processor and 6 gigabytes of RAM, it is possible to convert an entire hour of film in MPEG format (1920X1080 at the rate of 24) Per second) to a format compatible with portable players (MPEG4, 320X240, and 24 images per second) in 12 minutes only. The same conversion used by the iTunes 8.0.1 software with the WinQuickTimeMPEG2 package takes about three hours and 23 minutes on the same system without acceleration, AMD claims.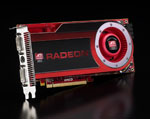 4870: I'll encode the movies to you
It is interesting that AMD chose Intel's processor for the system and one of the most powerful processors, rather than a quad-core AMD processor such as Phenom. Most computer systems do not have as much processing power as AMD, but still, according to what AMD claims, simple computers can also be used to convert video with an ATI card Radeon HD4000 series.