The Mushkin and Foxconn teams
We, too, did not give up on the pleasure and poured some liquid nitrogen ourselves. The temperature, as you can see, is remarkably low, yet the motherboard still manages to rise in an orderly fashion.
The second group was actually a one-man group - No-Name. The respected overclocker joined Mushkin in what seemed to be the smallest position of them all. But as the worn-out cliché goes on to say - \ 'Quiet water penetrates deep \'. Indeed, despite all the noise and ringing, it was actually No-Name who managed to break the world record at 3DMark06 at the show. The new record was set at about 32,000 points, but had already been broken again by the hipro5 overclocker in the days after the show. This system also used the CrossFireX array and the Penryn quad-core 5650MHz processor. The screen, which undoubtedly helped set the record.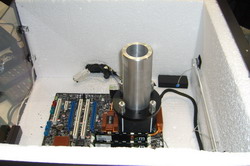 If you have not identified the names so far - you'll probably recognize Peter Tan, who is Shamino. The Overclocking and one of the world's most famous WaltModers recently joined Foxconn, and today serves as a consultant to the company in motherboards and uberclocks.
In what appeared to be the most impressive display, the Foxconn group managed to reach an 5.8GHz processor frequency (QX9650) and set a respectable 31,200 score on 3DMark06. According to Shamino, the lack of pipes suitable for liquid nitrogen for the graphics cards was the main obstacle to breaking the world record at the nearby stand.
Shamino in action - Got LN2?
There is no doubt that the Overclock Revolution is already here, and more and more manufacturers are taking part in the celebration. Despite the impressive show in the exhibition, there is no doubt that many highs will be broken repeatedly until the next time the Olympic Champions come to show their abilities in public.
However, they are just waiting for an opportunity to demonstrate their performance, and will certainly be eagerly awaiting another invitation to other major events, such as the Computex exhibition to be held in Taiwan later this year.