Mozilla will launch its new Firefox browser by the end of the year

4.0

, Which will offer, among other things,

HTML5

, In 64 bit processors and

Direct2D

, In addition to new design and improved response speed
at the beginning of the year
Mozilla Releases New Version
To its Firefox browser, and are already published across the web
reports
According to which the company will launch a new version by the end of the year. last year
Released
That the next version of the browser will be 3.7, but now it turns out that following changes in the company's schedule, the new version that will reach us this year will already be 4.0.
Firefox browser
4.0
Will bring with it quite a few improvements, the main of which is support for the standard
Direct2D
Which will enable a significant acceleration in the display of heavy websites, thanks to the use of video card calculation power. In addition, the user interface will be polished, including the option buttons and bookmarks, which will become more prominent and easier to use. Mozilla is also expected to launch an 64-bit version of the browser (which will offer higher performance to compatible systems), and will even be able to use a special version of the browser on devices
טאבלט
And smartphones that use advanced touch screens.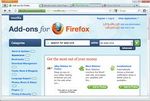 Here's how to see the new version
At Mozilla
Put the main emphasis
On the performance, when to the Firefox browser
4.0
It will take much less time to load
Apps
And running Java-based applications, compared to the 3.6 version. The engine on which the
Firefox
The new will-
Gecko 1.9.3
, Which will also bring improved support to such standards
HTML5
and-
CSS3
. It is expected that there will also be support for graphic acceleration, but only in systems
Windows
. Of course, the user interface will be improved, and will make it easier and more convenient in the browser for users who work with many bookmarks at the same time, as well as managing browser settings and security settings in particular will be simpler.
The initial beta version of Firefox
4.0
Is expected to be available for download in June, when the browser itself (in the final and official version) will be released by the end of the year.
Indeed, even if Mozilla's new browser is indeed particularly fast (thanks in part to support for graphical acceleration), the browser market is expected to reach no less tough contenders soon - such as
Chrome 5.0
Of Google and
Internet Explorer 9
של
Microsoft Office
.