Chrome is not alone: ​​Mozilla is also updating its browser faster than ever before
The War of the Browsers Is in full swing, With Microsoft and its Internet Explorer They are in the role of the elderly and rich grandfather / father / uncle (or any other relative of your choice), whose "children" Firefox and Chrome are competing for his inheritance.
The same competition, it seems, is mainly focused on "who will present as many new versions of her browser as possible", and while Chrome leading safely In category, It seems that Mozilla does not plan to give up easily.
as part From a new development model Which was announced at Mozilla earlier this year, an official 5 version of the Firefox browser will reach us on 21 in June, less than two months after Release of the beta version, And only three months later The official presentation of Firefox 4.
The new version will offer a number of changes and enhancements, including support for CSS animations, improved web performance, memory and JavaScript, improved standards support for HTML5, XHR MathML and more, improved spell checking, improved desktop integration for Linux users, repositioning Make the Do-Not-Track tab more accessible, change the time to "Time Out" for background tabs to 1000 milliseconds - which should improve browser performance and remove the ability to load different domain textures for WebGL content (Which is considered to be a security problem, Although removing the ability means that certain pages will not be able to work in the browser).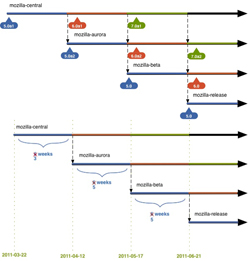 At this rate, Firefox definitely
May infect the "version gap" between it and the chrome
There are already claims on the net that the number of improvements that have been presented hardly justifies the name "Firefox 4.1", and certainly not Firefox 5, although it seems that Mozilla is confident in the rightness of their way, and determined to continue with the increased development. The fact that Firefox 5 will arrive (if no significant last-minute issues are discovered) on the exact scheduled date leads us to believe that Mozilla will indeed comply with their statements and present versions 6 and 7 of the browser this year - a statement that seemed almost fictional in February, given the long and tedious period Moved between the release of versions 3 and 4 of the browser.
If you can not wait until Tuesday, and feel that you must try the new version of its improvements already, you are welcome to go to Company Website, Where you can download the RC (Release Candidate) version of Firefox 5. Enjoy, and we will meet in version 6.
updating: It turns out that Mozilla is moving even faster than planned, as the final 5 version of Firefox can be downloaded Already Serves the company, "unofficially" until launch on Tuesday. And there are also versions For Linux וFor MacOS.