Enhanced screen resolution, enhanced processor and support for 4G networks
Smartphone-Galaxy Samsung's S2 is without a doubt the most popular and successful Android device in recent months (and probably also the most successful Android device ever) - 10 million units Sold within a few months before the device was launched in the US This is a phenomenal figure for all opinions that only two For the success of iPhone devices Of all kinds.
How do you "celebrate" such a success and help its continuity? Introducing an upgraded version Of the device, of course!
Over the past few weeks, we have heard about a great deal Smartphones (And not only) that will land soon And offer Particularly impressive features - Monitors in HD resolutions and chips that include a dual processor Core At a particularly impressive speed they are just part of the list.
It is not entirely clear how much of these technological improvements will benefit most users, but there is no doubt that these are not bad sales at all.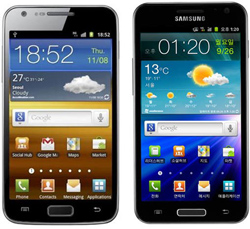 Galaxy S2 HD (right) and original model.
Will help the "Galaxy Continue to blossom?
Now it's the turn of Samsung's ultra-popular smartphone to get a "makeover" that takes care of placing it once again at the top of the market. The new version has been named Galaxy S2 HD LTE and it replaces the original 4.3 screen On the Super AMOLED screen 4.65 inches in size with an increased resolution of 1280 × 720 (which gives it a pixel density of about 316 ppi, almost like in the iPhone 4 and about 100 ppi more than the Galaxy S2 The original). The chip on the smartphone is also upgraded with a pair of cores at 1.5GHz speed (similar to the Galaxy Note and the Galaxy Tab 7.7) Which were recently exposed, And like a certain Galaxy S2 we heard A few months ago) Compared to two cores at 1.2GHz speed in the original model.
Samsung did not explicitly mention this, but it is reasonable to assume that the new Galaxy S2 HD chip is the company's Exynos 4212, which Recently Announced And ensures improved performance alongside battery life savings thanks to manufacturing in the process of 32 nm (vs. chip Exynos 4210 onGalaxy Current S2, which is produced in the 45 nm process).
The upgraded smartphone is also equipped withNFC chip (Near Field Communication), support for fourth generation networks LTE And a larger 1,850mAh battery to support the processor and the larger screen.
The device stands at 9.5 millimeters and its weight will be about 130 grams. These make it thicker and heavier than its predecessor, but it is still quite impressive for such an advanced device.
The less good news is that the Galaxy S2 HD has been announced for Korea only for now (estimated date of departure or expected price is not yet known), and it is not really clear whether it is out of the country and when it will happen. We certainly hope that the rising popularity of the current versions of the smartphone will convince סמסונג Take out the HD version for a global journey as well, because we have no such thing as "too many features".