The fast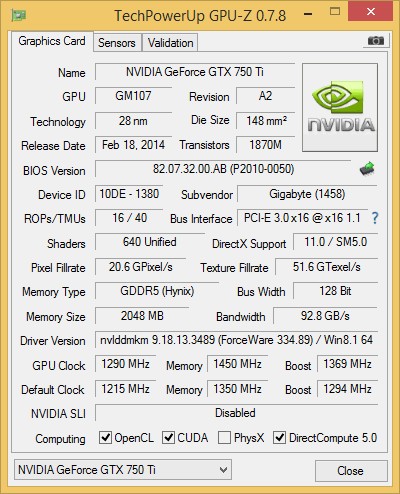 Using software to execute
The fast
For example video cards
MSI Afturburner
, You can speed up the video card. If frequency
Core
Of 1215 MHz is not enough for you, Gigabyte gives the possibility to climb even higher. The operating frequency for the graphics core managed to stabilize at 1290 MHz and under the automatic turbo function this frequency climbed above 1400 MHz in practice. I was able to stabilize the graphic memory frequency at 1450 MHz. In total, the increase in frequency was reflected in an increase in performance of about five percent. In this situation, the performance difference between it and
GTX 660
Shrinking.
It's about ability
The fast
Of the best models available today
750 GTX Ti
. Please note that there are models
750 GTX Ti
Some are unable to operate even on 1215 MHz, the frequency with which it comes
GTX 750 Ti OC
Of gigabytes from the factory.
Effective but not enough
750 GTX Ti

Is part of Anuidia's graphics card market for performance and power savings.
It's hard for me to remember when we last saw so much improvement in efficiency
graphic cards
, Etc. in the same production process.
Throughout the performance tests lagged
750 GTX Ti
Behind
GTX 660
As expected, but not significantly. It seems that the new architecture reacts differently than its predecessor, Kepler. Much of the success of this graphics card in the performance tests should be given to Gigabyte, which supplied its graphics card at a speed of almost 20 per cent of the factory, which is not common in simple video cards
750 GTX Ti
.
Cooling the
Windforce X2
Putting a gigabyte on this video card does a simply fantastic job. Besides he leaves the core of the
GM107
Cool under any mode of operation, it is also remarkably quiet.
When it comes to power consumption and its relationship to performance, there is no doubt that the GTX 750 Ti sets a new standard. Pay attention to the Power Test page and the GTX ratio of 750 Ti OC of Gigabyte compared to GTX 660 standard. While the GTX 660 is slightly stronger than GTX 750 Ti, its power consumption is significantly higher. This not only shows how GTX 750 Ti is effective, but how much each Maxwell architecture is effective compared to the old Kepler. This kind of leap of efficiency between
graphic cards
I am usually used to seeing the transition between production processes, rather than using the same production process.
In terms of actual performance, the
750 GTX Ti
Is not a video card designed for serious gaming on resolutions
FullHD
. It will be more suitable for games at lower resolutions such as
1680X1050
and-
1440X900
.
It seems that the new technology of
Anodia
There is a price, and the model
OC
Of gigabytes currently costs about 800 shekels in Israel. This is a similar price to sample video cards
Radeon R9 270
או
GTX 660
Which exhibit higher performance, but do not enjoy high efficiency.
If you're looking for a video card for games at low resolutions or for
FullHD
Under Medium, the
750 GTX Ti
He is still not the strongest card in his budget. Because of the low power consumption, it will suit computer systems in small packages and those with a simple power supply, so it definitely has a place in the market. Model
OC
Of Gigabyte is equipped with high operating frequency and excellent cooling.
Graphics Card - Gigabyte GeForce GTX 750 Ti OC 2GB
the good
Comes with The fast A serious 19 percent of the frequency of operation
Physically small - total length of 19 inches
Low power consumption
Cooling the

Windforce X2

Leaves the graphics core cold in any situation
Completely quiet at rest and effort
The bad
High price
Not including port

DisplayPort